Regular price
Sale price
£22.95
Unit price
per
Sale
Sold out
Share
Available as a Tincture, Verm-X is a powerful, Veterinary developed, Intestinal Hygeine control supplement.
Verm-X Liquid for Dogs is designed to be added to the feed for three consecutive days per month. We offer this more economical but equally effective alternative for larger kennels and working dog environments.
250ml
Ingredients
Tincture: Cinnamon, Garlic, Common Thyme, Peppermint, Fennel, Cleavers, Nettle, Slippery Elm, Quassia, Elecampane.
Administration
Feed every day throughout the year.
Small breeds (e.g. Jack Russell):  2 per day
Medium breeds (e.g. Labradors):   4 per day
Large breeds (e.g. Newfoundland):  6 per day
Verm-X Dog Liquid: 1 small dog requires 15ml per month, 1 medium dog requires  30ml per month, 1 large dog requires 45ml per month.
View full details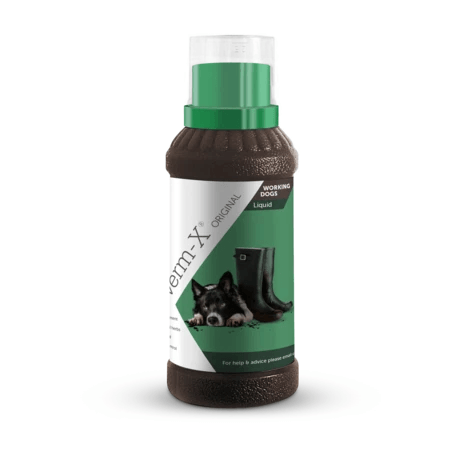 Shipping
We offer Local Delivery to multiple areas around our base, if you are interested in one of our delivery runs please check the Ordering and Delivery page to see if you are on one of our runs or contacts from the Contact Us page. No Frozen products can be shipped out by post, only by local delivery. For updates in our shop visit our Facebook Page.

If you would like to know more about us as a company, visit our page Our Story