Regular price
Sale price
£6.17
Unit price
per
Sale
Sold out
Share
Verm-X Crunchies are designed to be fed every day throughout the year. This means that you do not need to buy additional reward or treat products for your dogs as our Verm-X formulation can act as an traditional treat whilst functioning as a continual intestinal hygiene control.
Ingredients
Crunchies: Brown Rice, Poultry Meal, Beet Pulp, Poultry Fat, Cinnamon, Garlic, Common Thyme, Peppermint, Fennel, Cleavers, Nettle, Slippery Elm, Quassia, Cayenne, Potato Starch, Potato, Brewers Yeast, Chicken stock, Seaweed, Salmon Oil, Minerals and Vitamins, Prebiotic MOS, Prebiotic FOS, Green Tea Extract.
Administration
How many Verm-X Dog Crunchies do I feed?
Feed every day throughout the year.
Small breeds (e.g. Jack Russell):  2 per day
Medium breeds (e.g. Labradors):   4 per day
Large breeds (e.g. Newfoundland):  6 per day
Verm-X Dog Crunchies: 1 small dog requires 100g per month. 1 medium dog requires 200g per month, 1 large dog requires 300g per month.
View full details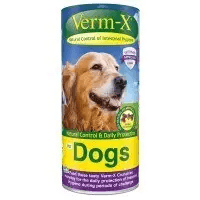 Shipping
We offer Local Delivery to multiple areas around our base, if you are interested in one of our delivery runs please check the Ordering and Delivery page to see if you are on one of our runs or contacts from the Contact Us page. No Frozen products can be shipped out by post, only by local delivery. For updates in our shop visit our Facebook Page.

If you would like to know more about us as a company, visit our page Our Story