Regular price
Sale price
£26.45
Unit price
per
Sale
Sold out
Share
A power-packed powder formula consisting of Slippery Elm, Fennel, Chamomile & Dandelion combined together with active prebiotics from chicory root extract & yeasts and probiotics Enterococcus faecium & Bacillus subtilis.
The fantastic combination of ingredients in Tummy Tastic supports a healthy balanced gut and digestive system. It reduces stomach discomfort, aids the absorption of nutrients and bolsters immune function. This blend is also ideal to use as a preventative approach to keeping your dog's gut healthy, balanced and strong. Additionally, dogs with yeast-related problems can benefit from pre/probiotics.
*Ideal for dogs who are susceptible to tummy troubles, after antibiotics, vaccines or a stomach-related illness. Can also be used periodically to maintain the health of the gut and digestive system. Suitable for all breeds.
350g or 700g

Ingredients
This blend contains four power herbs to aid gut health and optimise digestion.

Slippery Elm: Supports a healthy stomach lining. High in fibre; keeps stools firm. Contains essential nutrients being protein, fibre, calcium, beta-carotene, ascorbic acid and magnesium

Fennel: Calming, keeps tummies gurgle free! A fantastic anti-oxidant. Contains calcium, iron, vitamin C, folate and potassium.

Chamomile: Calming, nourishing and supports optimal digestive function. Contains potassium, phosphorus, manganese, zinc, iron & selenium.

Dandelion: A rich source of prebiotic fibre called inulin. Supports the liver and aids appetite & digestion. Aids the elimination of waste material from the body. A powerhouse herb with the richest source of β-carotene, from which vitamin A is created. It is especially rich in fibre, potassium, iron, calcium, magnesium, phosphorous, B, C & K vitamins (especially thiamine and riboflavin). 

Dried Chicory root extract (prebiotic fructooligosaccharide): support the growth of probiotics, which help keep bad bacteria under control in your dog's gut! Prebiotics help to support digestion and nutrient absorption (especially minerals), and keep the immune system strong. Have a synbiotic effect with the probiotics in this formula.
Mannanoligosaccharides: Supports gut microflora balance.

Added Probiotics;

Enterococcus faecium & Bacillus subtilis: aids digestion and helps to maintain a healthy mix of bacteria in the stomach.
100% Natural Clays;
Montmorillonite & Sepiolite clays to aid the removal of toxins from the body. The clay acts as a great detoxifier and cleanser of the gut walls.
Administration
Small dogs up to 10kg: 10g (half a scoop) Medium dogs 10-25kg: 20g (one scoop) Large dogs 25-40kg: 30g (one and a half scoops) Giant dogs over 40kg: 40g (two scoops)
View full details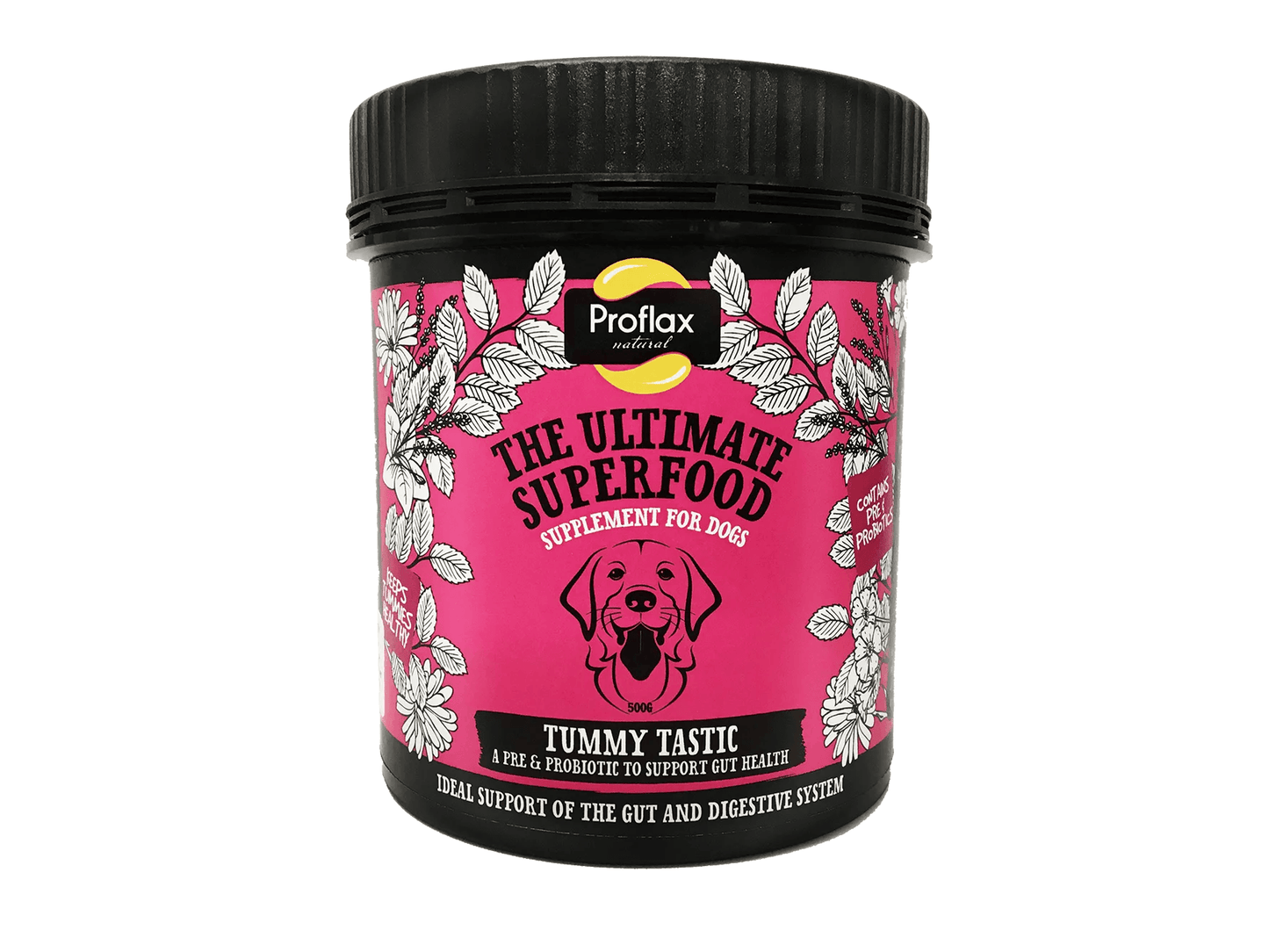 Shipping
We offer Local Delivery to multiple areas around our base, if you are interested in one of our delivery runs please check the Ordering and Delivery page to see if you are on one of our runs or contacts from the Contact Us page. No Frozen products can be shipped out by post, only by local delivery. For updates in our shop visit our Facebook Page.

If you would like to know more about us as a company, visit our page Our Story