Regular price
Sale price
£14.99
Unit price
per
Sale
Sold out
Share
Smartbarf makes it easy to give dogs on a raw or home prepared diet the beneficial nutrients and vitamins of a wide variety of herbs, vegetables, fruits, seeds and more.
There's been years researching the best ingredients for a healthy balanced diet, and they are prepared  for you to just measure and add hot water, saving you time and money.
Containing over 50 different herbs & vegetables, seeds & nuts, fruits & berries, and pulses for a 100% natural source of essential and varied oils, minerals, phytonutrients, antioxidants and vitamins.
40% Herbs, Algae, Vegetables and Seaweed
40% Seeds and Nuts
10% Fruits & Berries
10% Pulses
500g or Bulk 3x500g packs
Ingredients
Asparagus, Banana, Basil, Beetroot, Blue Maw (Poppy), Brazil nuts, Broccoli, Caraway, Carrot, Chickpea, Dates, Evening Primrose, Fennel, Goji Berries,Hawthorn berries, Hazelnuts, Hemp, Linseed (Flax), Locust Bean, Milk Thistle, Millet, Mint, Niger, Oregano, Parsley, Peanuts, Perilla, Prunes, Pumpkin, Rosehips, Safflower, Sage, Seaweed, Sesame, Spinach, Sunflower Hearts, Thyme, Tomato, Walnut, Wild Seeds.
Administration
Toy Breeds: 2.5g  (half a tsp)
Small Breeds:  3-5g (two thirds-1tsp)
Medium Breeds: 5-10g  (1-2tsp)
Large Breeds: 12-18g  (2.5-3.5tsp)
Giant Breeds: 20-45g  (4-9tsp)
The above is different to the table on the pack, which is done to be 16% of the diet.
Our recommended amounts above are done to be 5% of the diet, in line with the latest recommendations for most breeds.
Most nutritional benefit is achieved if the product is rehydrated and frozen before feeding, so we suggest you make up and big batch and freeze daily amounts in an ice cube tray, then you can just defrost an ice cube each day alongside the raw food, or some dogs will like it as a frozen cube.
Just add water at a ratio of 2 parts water : 1 part Smartbarf, stir and leave to sit for 5-10 mins, once cooled, fill your ice cube tray, or mix into food.
View full details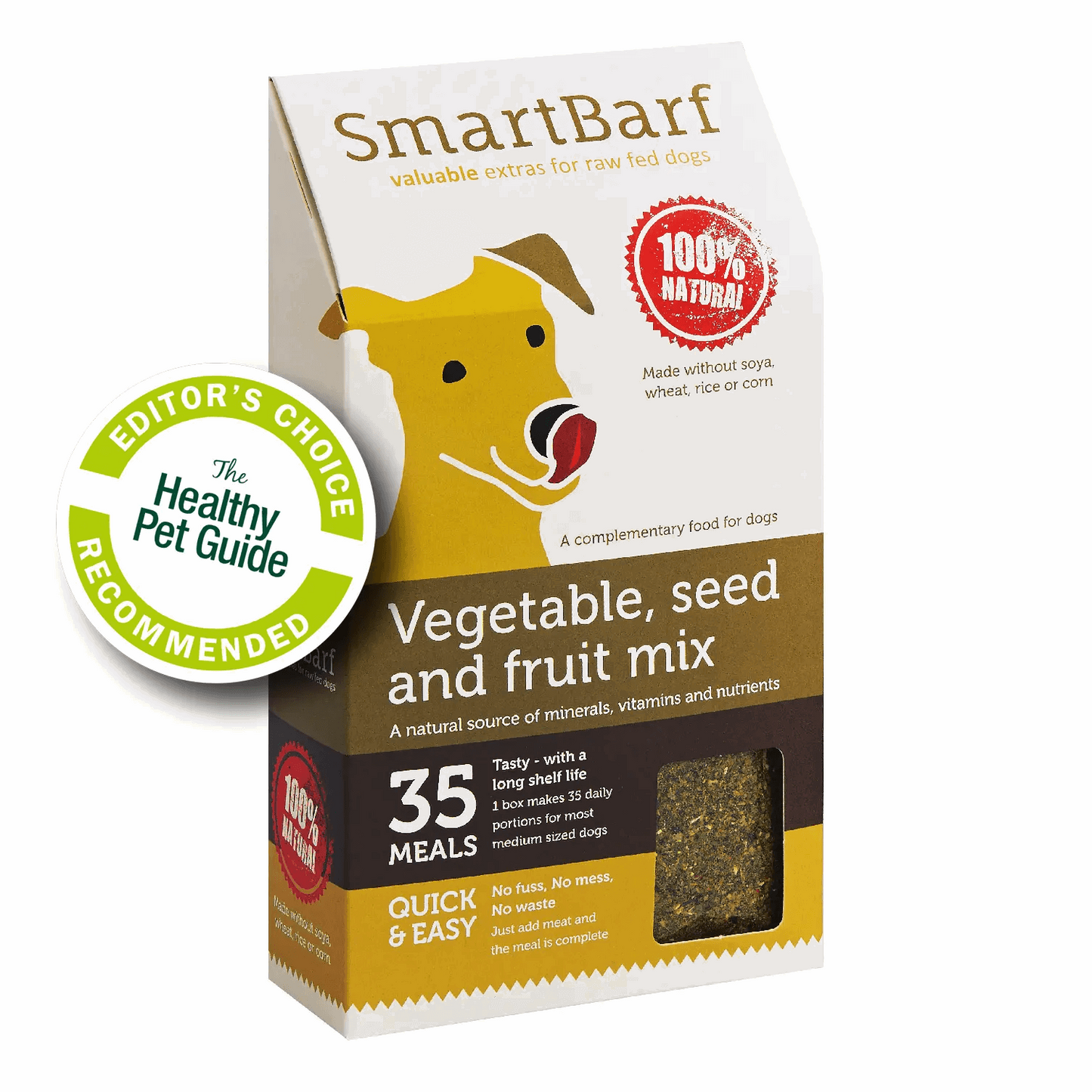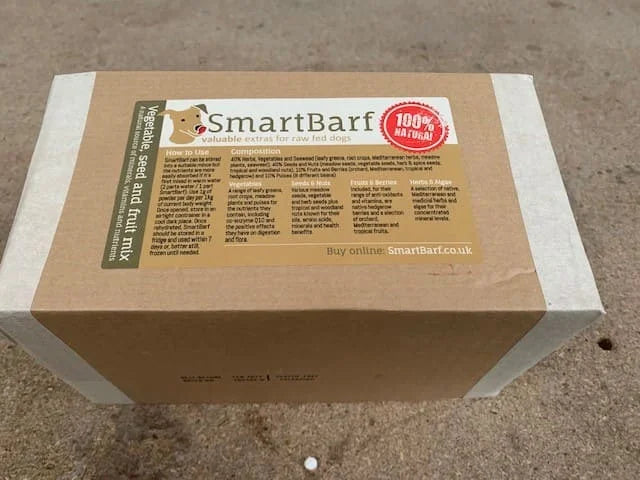 Smart barf suppliment
This has been really helpful to add to pure mince based feeds, our lab is noticeably healthier since we started adding it.
Thankyou for your Great review David, so pleased to hear it is helping your dog.
Have been buying from NHP for 7 years. Their products are as you would expect from a Premium Company, but also their service and delivery, they have great staff who always polite and professional Great Company. Joe and Carole Lake
Thankyou for your Great review Carole, we're so pleased you are happy with our service and products.
Nutrition
My girls have smartbarf at least once a day as well as veg .
Thankyou for this Great review for Smartbarf, Keith. Your girls are the picture of health!
Shipping
We offer Local Delivery to multiple areas around our base, if you are interested in one of our delivery runs please check the Ordering and Delivery page to see if you are on one of our runs or contacts from the Contact Us page. No Frozen products can be shipped out by post, only by local delivery. For updates in our shop visit our Facebook Page.

If you would like to know more about us as a company, visit our page Our Story