Regular price
Sale price
£16.95
Unit price
per
Sale
Sold out
Share
Made using a base of Cold Pressed Flaxseed Oil and containing a Veterinary Formulated Herbal Blend, ProFlax supplements are highly effective and replace the need to add multiple supplements to your Dogs meal.
The Flaxseed Oil contains a good range of Plant-based Omega-3's and is highly palatable.
This Skin & Coat blend has been specifically formulated to provide Immune support against seasonal Allergies as well as supporting the healthy maintenance of your Dogs Skin & Coat.
Ingredients
75% cold pressed culinary grade flaxseed oil
25% herbal tincture blend consisting of:
Nettle: A powerful adaptogen and a rich source of phytonutrients;  chlorophyll, sterols, polyphenols, lignans and gallic acid. Nettle contains the flavanoid quercetin to support itch free skin. Aids circulation and kidney function. Contains iron, phosphorus, potassium, calcium, magnesium, vitamins A, C K and B.
Sarsaparilla: Supports itch free skin and a healthy immune system.  Packed with antioxidants, phytochemicals and saponins. Contains trace minerals iron, magnesium, selenium, calcium and zinc and vitamins A, C, D and B complex.
Chamomile: A powerful relaxing, calming & soothing herb. A powerful antioxidant. Contain flavanoids apigenin, quercetin, patuletin, chrysin and luteolin which provide anti-histamine relief. Aids digestion, supports muscle tissues and keeps skin cool, clean and clear. 
Skullcap Baicalensis: Promotes calmness. Supports healthy, clean, clear and cool skin. Supports liver function - cleansing.
Milk Thistle: An adaptogenic herb with powerful anti-oxidant properties. Cleansing. Supports liver & kidney health. Aids metabolism. Supports a healthy nervous system and brain. Provides calcium, magnesium, potassium, folate and vitamin A.
Ginkgo: An adaptogenic herb that promotes a sense of calmness. Maintains good energy. Supports a healthy nervous system and promotes circulation. A natural flavanoid, and anti-oxidant. Good source of vitamin A, C, B-6, iron and magnesium.
Liquorice root: An adaptogenic herb that supports the immune system, relieves stress, aids respiration and maintains good digestion. Also makes the formula taste great!
Administration
Shake well and add to raw, wet or dry food. Feed according to your dogs needs.
View full details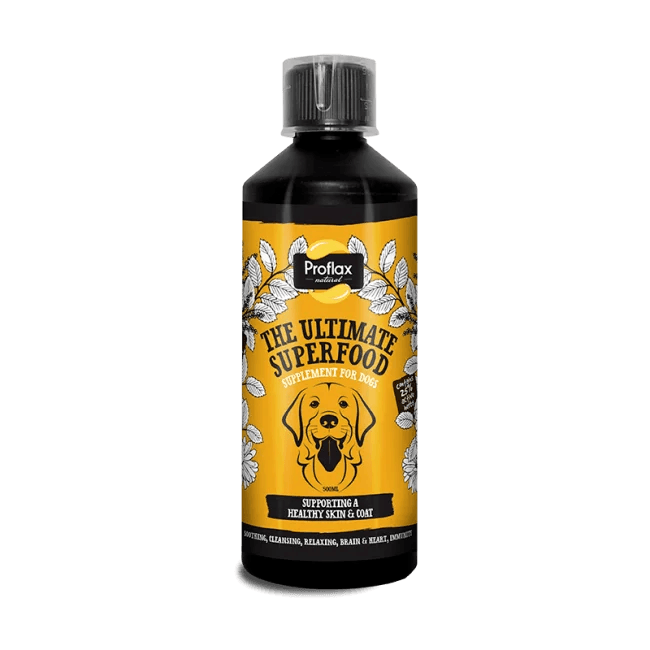 Shipping
We offer Local Delivery to multiple areas around our base, if you are interested in one of our delivery runs please check the Ordering and Delivery page to see if you are on one of our runs or contacts from the Contact Us page. No Frozen products can be shipped out by post, only by local delivery. For updates in our shop visit our Facebook Page.

If you would like to know more about us as a company, visit our page Our Story