Durham Animal Feeds
Regular price
£5.99
Sale price
£4.00
Unit price
per
Sale
Sold out
Share
Pork pancreas chunks in 1kg packs
Very important for dogs with pancreatic issues.
Ingredients
N/A
Typical Analysis
N/A
View full details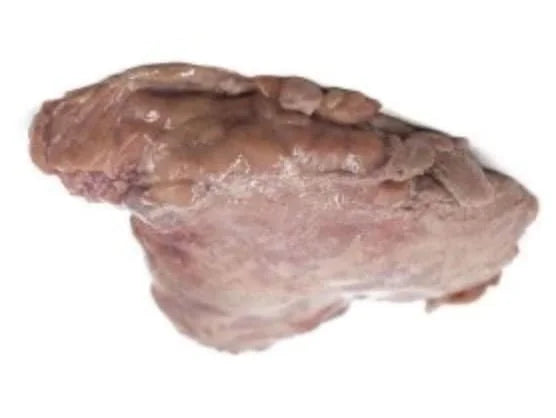 Massive chunks
I have a dog with pancreatitis, so rather than taking tablets we have always chose to feed small quantities of pancreas with each meal to supplement his enzymes. We have recently moved down from Lincolnshire where we had a good supply from a local butcher, since moving we have found it very difficult to find a new supply until we came across these which is great the only downside is the chunks are massive, the bags only have about 4 chunks which are too large for his individual meals therefore we are having to defrost and store in the fridge which is a little inconvenient and potentially spoiling the effectiveness.
Would prefer either individual pancreas's or minced options to make it easier to keep frozen until needed.
Hi Liz, thankyou for your review. We are happy to stock the pancreas chunks, and try to keep these available as we know there are those like yourself who use it more in a medicinal capacity than as food. As you have found there are also barely any who stock it as standard like we do, because they are making their business decisions based solely on item sales figures, and this item doesn't sell very well as thankfully there are not many dogs with pancreatic issues needing them, but we know how important it is for those dogs who cannot use the powdered enzymes for pancreatic issues, who would literally die without it, so we make an exception, and put barely any mark-up on it, basically only covering our own costs to keep it as affordable as possible as to our knowledge there are only 2 raw suppliers who do it, and the other is a lot more costly.
Unfortunately we have no control over the size of the chunks as it comes in a sealed pack, but will pass on your request to the supplier, but there is no reason why you can't let it soften slightly and whilst still frosty cut into whatever size suits your dog and put the daily portion amounts back in the freezer.
Shipping
We offer Local Delivery to multiple areas around our base, if you are interested in one of our delivery runs please check the Ordering and Delivery page to see if you are on one of our runs or contacts from the Contact Us page. No Frozen products can be shipped out by post, only by local delivery. For updates in our shop visit our Facebook Page.

If you would like to know more about us as a company, visit our page Our Story