Regular price
Sale price
£9.45
Unit price
per
Sale
Sold out
Share
This blend has been formulated to enable your dog keep calm and relaxed, especially in stressful situations or those that might make them feel nervous. Ideal for rescue/re-homed dogs, periods of change, those who are noise sensitive or struggle with behaviour and working/show dogs who need to remain calm and focused. Certain breeds are simply more sensitive/nervous.
Omega Calm is a 100% natural, holistic superfood supplement that contains 75% Omega 3 rich human grade fish oil consisting of sardine, anchovy, mackerel, herring and tuna and 25% blend of active herbal tinctures; Withania, Valerian, Passionflower, Bacopa, Lemon Balm and Avena Sativa. These superfood ingredients provide nutritional support; vitamins, minerals, phytonutrients and antioxidants.
Omega Calm contains adaptogenic herbs that help to support physical and emotional wellbeing. The herbs in this formula have been selected by a holistic vet for maximum health benefits, which can be shown in as little as 7 days in some dogs.
Feed 1ml to every 2kg of dogs weight with your dogs regular food once daily, or as required. Shake well before every use and store in the fridge to maintain freshness.
Omega Calm can be used in conjunction with other flaxseed oil based products in the Proflax portfolio to help support different aspects of health and wellbeing in your dog. 
Not recommended for pregnant or nursing dogs or puppies under the age of 8 weeks old. Stop feeding 5 days prior to an operation/anaesthetic. Not to be used if your dog is allergic/sensitive to any of the ingredients listed. Please check with your vet before giving this supplement if your dog is taking any medication. 
 Key benefits;
25% active herbal tincture blend
Promotes calmness & relaxation
Aids mental clarity
Supports a healthy immune & nervous system
Omega 3 supports heart, eye, brain & immune system
Nutritionally supportive
Holistic formula supporting physical & emotional wellbeing
Ingredients:
75% Omega 3 rich human grade fish oil
25% herbal tincture formula consisting of Withania, Valerian, Bacopa, Passionflower, Lemon Balm, Avena Sativa
Typical Analysis
N/A
View full details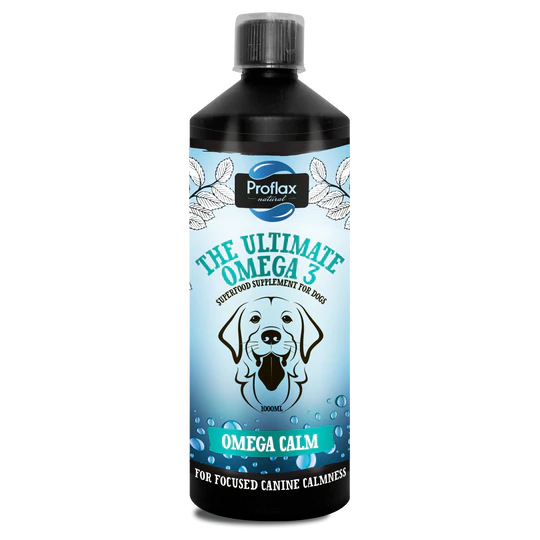 Shipping
We offer Local Delivery to multiple areas around our base, if you are interested in one of our delivery runs please check the Ordering and Delivery page to see if you are on one of our runs or contacts from the Contact Us page. No Frozen products can be shipped out by post, only by local delivery. For updates in our shop visit our Facebook Page.

If you would like to know more about us as a company, visit our page Our Story