Proflax
Regular price
Sale price
£9.45
Unit price
per
Sale
Sold out
Share
This blend will help to support the health of your dogs musculoskeletal system (bones, joints & soft tissues), liver and kidneys. It is ideal for dogs who are extra active or getting older, after an injury or operation, in recovery or working/competing dogs requiring additional support.
Omega Bounce is a 100% natural, holistic superfood supplement that contains a 75% Omega 3 rich human grade fish oil consisting of sardine, anchovy, mackerel, herring and tuna and a 25% blend of concentrated active herbal tinctures; Turmeric, Nettle, Celery Seed, Ginger, Meadowsweet, Milk Thistle & Astragalus. These superfood ingredients provide nutritional support; vitamins, minerals, phytonutrients and antioxidants.
Omega Bounce contains adaptogenic herbs that help to support physical and emotional wellbeing. The herbs in this formula have been selected by a holistic vet for maximum health benefits, which can be shown in as little as 5-7 days in some dogs.
Available in 100ml, 250ml, 500ml and 1 litre

View full details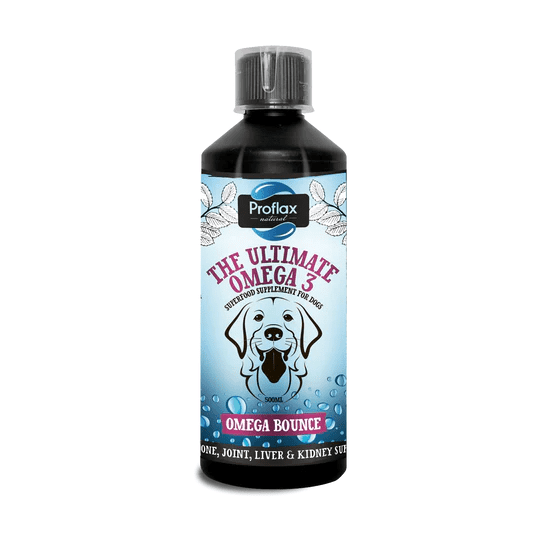 Shipping
We offer Local Delivery to multiple areas around our base, if you are interested in one of our delivery runs please check the Ordering and Delivery page to see if you are on one of our runs or contacts from the Contact Us page. No Frozen products can be shipped out by post, only by local delivery. For updates in our shop visit our Facebook Page.

If you would like to know more about us as a company, visit our page Our Story