Regular price
Sale price
£9.45
Unit price
per
Sale
Sold out
Share
Your dog's liver has a lot to cope with. It has to cleanse toxins from a chemical, mineral or ingestible source. Briefly explained these toxins come from household cleaning products, pesticides, chemical flea treatments, medication, anaesthetic, commercial pet food additives, poor quality water or harmful foods that our babies get their paws on such as chocolate!
The liver is susceptible to damage because of its central role in detoxification of the body. Over time an excess of toxins can build up and cause problems and some breeds may simply be more predisposed to liver related issues.
To avoid problems, it is advisable to give your dogs liver a thorough cleanse every 12-18 months, or as necessary, which can be after anaesthetic or ongoing medication.
Proflax Liver Love formula is 100% natural. It contains concentrated active herbs Dandelion, Milk Thistle, Yarrow, Artichoke, Schizandra, Yellow Dock and Liquorice. These herbs have been formulated to offer powerful detoxification of the liver and assist with optimal liver function. The inclusion of flaxseed oil additionally helps to maintain overall good health of the heart, digestive & reproductive system, supports mobility & circulation, aids metabolism and gives a shiny coat. The active ingredients provide nutritional support.
Liver Love contains 3 adaptogens which are a unique class of healing herbs that help to balance, restore and protect the body both physically and emotionally. The herbs in this formula have been selected by a holistic vet for maximum efficacy. Visible relief and health benefits can be seen in as little as 7 days in some dogs.
Available in 100ml, 250ml, 500ml
Ingredients
Milk Thistle
Dandelion
Yarrow
Yellow Dock
Artichoke
Schizandra
Liquorice
Administration
Shake well before every use and store in the fridge to maintain freshness.
Add to raw, wet or dry food once daily.
Feed 1ml to every 2kg of dogs weight once daily, either morning or evening. For immediate relief increase to 2ml to every 2kg of dogs weight for 7 days and then revert to 1ml to every 2kg of dogs weight daily. For a general cleanse feed every 1ml to every 2kg of dogs weight every other day for 30 days.
View full details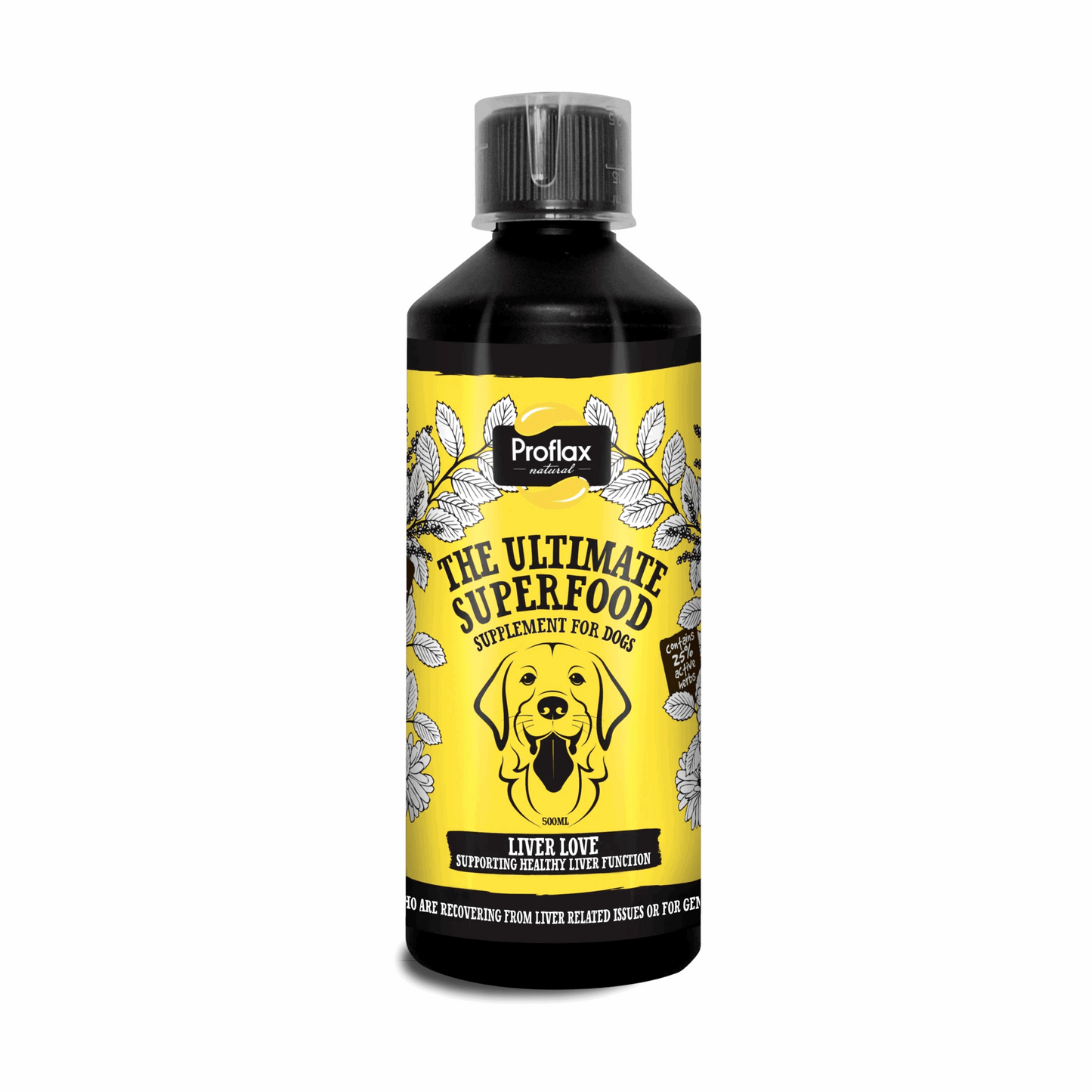 Shipping
We offer Local Delivery to multiple areas around our base, if you are interested in one of our delivery runs please check the Ordering and Delivery page to see if you are on one of our runs or contacts from the Contact Us page. No Frozen products can be shipped out by post, only by local delivery. For updates in our shop visit our Facebook Page.

If you would like to know more about us as a company, visit our page Our Story