Regular price
Sale price
£4.99
Unit price
per
Sale
Sold out
Share
Leucillin Antiseptic Skincare is specially formulated for the equine and petcare market, it provides a high strength healthcare solution you can rely on; this 100% safe, non-toxic, one-step topical pathogen control spray.
Pioneering UK Hypochlorous SkincareTechnology, Leucillin was the first UK manufactured Hypochlorous based health and skincare spray Launched at Gatcombe Festival of Eventing 2011 and is the most powerful skin pH neutral, non-toxic antiseptic solution available anywhere.
Leucillin is specially formulated for the health and skincare of your animal and has proven anti-bacterial, anti-viral and anti-fungal Technology.
Suitable for use on all mammals, birds and reptiles; Leucillin is an innovative, reliable and affordable solution for a wide variety of skin types. Leucillin out-performs other products with its ability to kill up to 99.99999% of germs. Leucillin is used to clean and flush minor wounds, Leucillin is soothing to sensitive skin, yet provides you with a powerful solution.
From a horse to a hamster, Leucillin is fast, safe and incredibly effective.
• Effective on all mammalian animals
• Works in harmony the body's immune system
• Contains NO steroids, antibiotics or alcohols
• Maintains healthy itch-free skin
• Non-toxic, skin pH neutral, 100% safe
• Does not sting or irritate
• Does not harm healthy tissue
• Does not require rinsing
Ingredients
N/A
Administration
N/A
View full details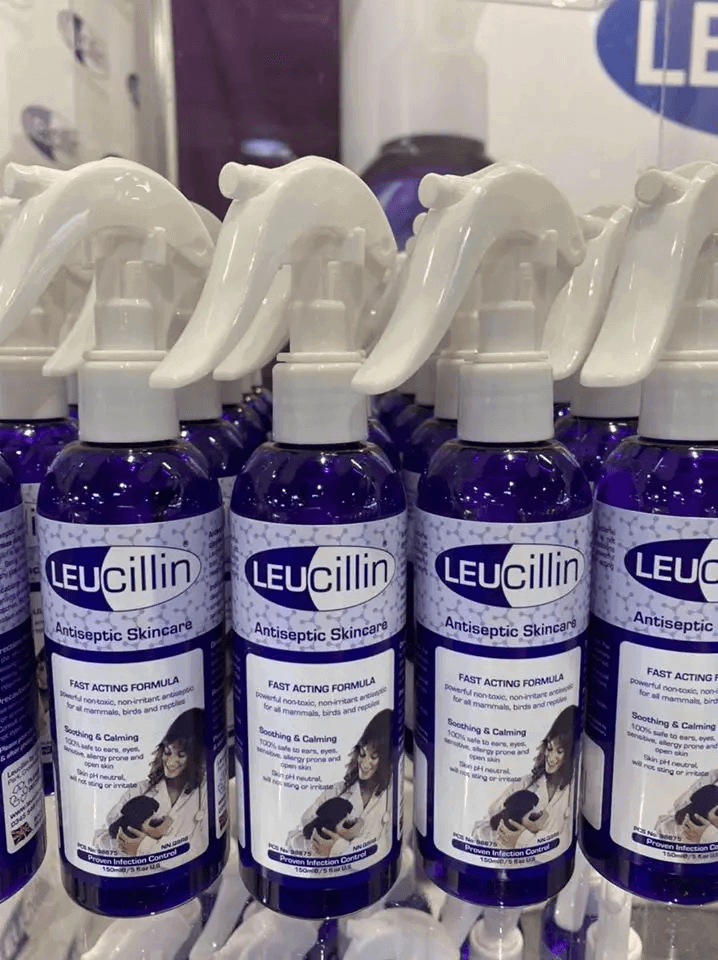 Shipping
We offer Local Delivery to multiple areas around our base, if you are interested in one of our delivery runs please check the Ordering and Delivery page to see if you are on one of our runs or contacts from the Contact Us page. No Frozen products can be shipped out by post, only by local delivery. For updates in our shop visit our Facebook Page.

If you would like to know more about us as a company, visit our page Our Story