Regular price
Sale price
£8.95
Unit price
per
Sale
Sold out
Share
Indulge your furry friend with a truly exquisite treat sourced from the sprawling Spanish Plains. Our Iberian Pig Ears are a testament to quality and taste, offering your pet a delectable chewing experience that goes beyond the ordinary.
What sets these Iberian Pig Ears apart is their naturally lower fat content compared to standard dried pig ears. This makes them an ideal choice for pets that may benefit from a leaner treat option. Not only are these ears a delicious indulgence, but they also pack a nutritional punch. They boast elevated levels of essential vitamins and minerals, providing a wholesome addition to your pet's diet.
Each pack contains five of these premium Iberian Pig Ears, ensuring that your pet has a supply of these delectable treats to enjoy over time. Whether as a special reward or a satisfying chew, these ears are sure to become a favorite in your pet's treat repertoire.
Key Features:
Sourced from the Spanish Plains: These Iberian Pig Ears are sourced from the picturesque Spanish Plains, known for their rich agricultural heritage and high-quality produce.

Lower in Fat, Higher in Nutrients: Compared to standard dried pig ears, these Iberian counterparts boast lower fat content, making them an excellent option for pets with specific dietary needs. Additionally, they offer elevated levels of essential vitamins and minerals.
Ingredients:
Typical Analysis:
Protein: 78.5%
Natural Oils & Fats: 15.4%
Ash: 37.8%
These values reflect the rich nutritional profile of our Iberian Pig Ears, providing your pet with a treat that not only delights their taste buds but also contributes to their overall well-being.
Treat your pet to a taste of luxury with our Iberian Pig Ears. Sourced from the Spanish Plains and packed with flavor and nutrition, these ears are a delectable and wholesome addition to your pet's treat collection. Elevate their snacking experience with this premium option.
View full details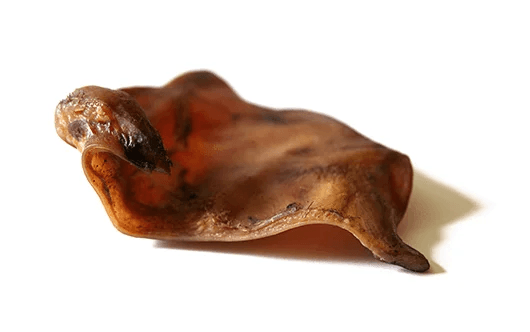 Shipping
We offer Local Delivery to multiple areas around our base, if you are interested in one of our delivery runs please check the Ordering and Delivery page to see if you are on one of our runs or contacts from the Contact Us page. No Frozen products can be shipped out by post, only by local delivery. For updates in our shop visit our Facebook Page.

If you would like to know more about us as a company, visit our page Our Story