The Dogs Butcher
Regular price
Sale price
£8.10
Unit price
per
Sale
Sold out
Share
Introducing our Bone-Free Horse Meat Chunks: A Wholesome Protein Source for Your Pet
Treat your beloved pet to a premium source of nutrition with our 1kg packs of Bone-Free Horse Meat Chunks. Crafted from large, high-quality cuts of horse meat, these chunks are thoughtfully prepared to provide your furry friend with a hearty and protein-rich meal.
Key Features:
Quality Ingredients: Our Horse Meat Chunks are made from large, carefully selected portions of horse meat, ensuring that your pet receives nothing but the finest quality protein.

Bone-Free: We understand that some pets may have specific dietary preferences or needs. That's why our chunks are completely bone-free, providing a convenient and safe option for pets of all sizes.
Nutritional Profile:
Water Content: 68%
Protein Content: 22%
Fat Content: 9%
Ash Content: 1%
Fiber Content: 0%
A Source of Essential Nutrients:
Protein: With a generous protein content of 22%, our Horse Meat Chunks serve as an excellent source of this crucial nutrient. Protein is essential for muscle development, maintenance, and overall vitality.
No Unwanted Additives:
We take pride in providing a natural and pure product for your pet. Our Horse Meat Chunks contain no artificial additives, ensuring that your pet receives a wholesome and untainted source of nutrition.
Feeding Instructions:
Serve as a part of a balanced diet. Adjust portion sizes based on your pet's size, activity level, and individual dietary needs.
Elevate your pet's mealtime experience with our Bone-Free Horse Meat Chunks. We prioritize quality, ensuring that your furry friend receives a nutritious and delicious source of protein. Say goodbye to unwanted additives and embrace a natural and wholesome feeding option. Provide your pet with the best that nature has to offer. Try our Horse Meat Chunks today!
View full details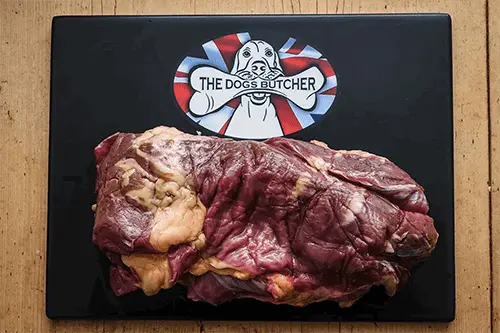 Shipping
We offer Local Delivery to multiple areas around our base, if you are interested in one of our delivery runs please check the Ordering and Delivery page to see if you are on one of our runs or contacts from the Contact Us page. No Frozen products can be shipped out by post, only by local delivery. For updates in our shop visit our Facebook Page.

If you would like to know more about us as a company, visit our page Our Story