Durham Animal Feeds
Regular price
£6.15
Sale price
£5.95
Unit price
per
Sale
Sold out
Share
Introducing our Horse Chunks: A Protein-Packed Delight for Your Dog's Chewing Pleasure
Treat your canine companion to a premium chewing experience with our Horse Chunks, available in a convenient 1kg pack. Crafted from high-quality horse meat, these chunks are thoughtfully cut into fist-sized portions, providing your dog with a satisfying and engaging chew.
Key Benefits:
Rich in Protein and Essential Nutrients: Horse meat is a nutritional powerhouse, boasting high protein content along with a wealth of vital vitamins and minerals. From various forms of vitamin B to vitamin A, folic acid, and essential amino acids, it provides a well-rounded nutritional profile. Additionally, horse meat is a source of important minerals like iron, copper, and zinc, contributing to your dog's overall well-being.

Natural Goodness, No Additives: We believe in providing your pet with the best nature has to offer. That's why our Horse Chunks contain no artificial colors, preservatives, additives, cereals, or fillers. We prioritize purity and quality, ensuring your dog enjoys a natural and wholesome treat.
Product Details:
Treat your furry friend to a chew that not only satisfies their instincts but also provides essential nutrients for their health and vitality. With our Horse Chunks, you can trust that you're offering a premium treat that aligns with your pet's natural dietary needs. Say goodbye to artificial additives and embrace the goodness of nature. Elevate your dog's chewing experience with the wholesome goodness of our Horse Chunks today!
View full details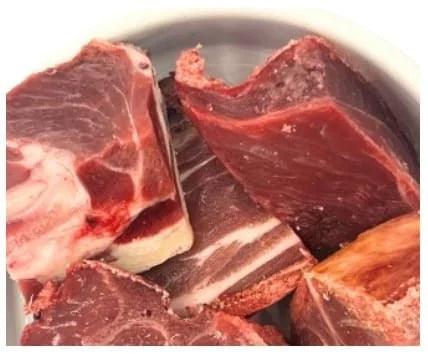 Shipping
We offer Local Delivery to multiple areas around our base, if you are interested in one of our delivery runs please check the Ordering and Delivery page to see if you are on one of our runs or contacts from the Contact Us page. No Frozen products can be shipped out by post, only by local delivery. For updates in our shop visit our Facebook Page.

If you would like to know more about us as a company, visit our page Our Story