Regular price
Sale price
£4.10
Unit price
per
Sale
Sold out
Share
Introducing Goat Horn Chews: Nature's Own Durable Delight
Treat your four-legged companion to the pure essence of nature with our Goat Horn Chews. Crafted from 100% natural goat horn, these chews provide a satisfying and long-lasting chewing experience that your dog will adore.
Natural and Durable:
Our Goat Horn Chews are pure, unadulterated, and built to last. Unlike processed bones, these chews are much less likely to splinter due to the gradual grinding action of chewing. This means you can offer your dog a safe and enjoyable chewing experience.
Stress Relief in Every Chew:
Chewing is more than just a pastime for dogs; it's a natural behavior that helps them relax. These horn chews provide an acceptable outlet for bored or stressed dogs, releasing endorphins that promote a sense of calm. Watch as your furry friend indulges in a moment of pure bliss with every chew.
Perfect for Low-Fat Diets:
With their low-fat content, our Goat Horn Chews are a wonderful option for dogs with specific dietary needs. Whether your dog has pancreatitis or requires a low-fat diet for other reasons, these chews offer a safe and delicious treat option.
Odor-Free and Mess-Free:
Say goodbye to unpleasant odors and sticky residues. Our Goat Horn Chews remain odor-free, even during the most vigorous chewing sessions. They won't become slimy or leave a mess, ensuring a clean and enjoyable chewing experience for your dog.
Pure Goodness, No Additives:
Rest easy knowing that our Goat Horn Chews contain only 100% goat horn. They're free from artificial colorings, fragrances, flavors, preservatives, and additives. These gluten-free treats are a testament to our commitment to providing natural, wholesome options for your furry friend.
Remember, for supervised chewing only. While these chews are durable, any natural treat containing bone carries a risk of splintering. Treat your dog to the best that nature has to offer with our Goat Horn Chews, and let them experience the joy of chewing in its purest form.
Ingredients
100% Goat Horn
Typical Analysis
Protein 75.33%, Fat 3.19%, Ash 16.20%
View full details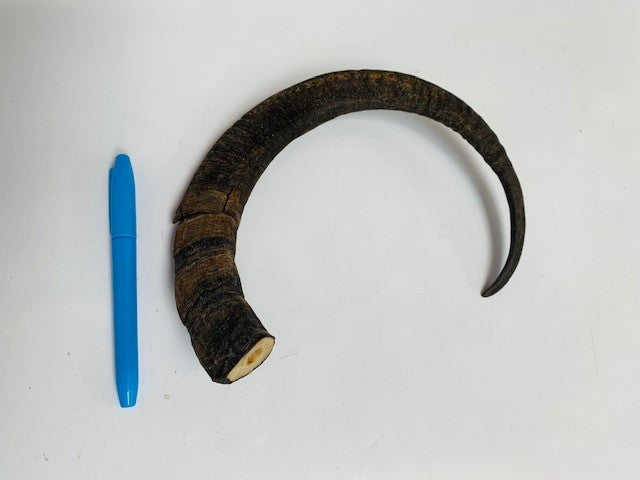 Shipping
We offer Local Delivery to multiple areas around our base, if you are interested in one of our delivery runs please check the Ordering and Delivery page to see if you are on one of our runs or contacts from the Contact Us page. No Frozen products can be shipped out by post, only by local delivery. For updates in our shop visit our Facebook Page.

If you would like to know more about us as a company, visit our page Our Story