Regular price
Sale price
£3.09
Unit price
per
Sale
Sold out
Share
Treat Your Pup to Pure, Sustainably-Sourced Goodness!
Indulge your furry friend with Anco treats, where quality meets conscience. Our treats are not only delicious but also fully traceable, ensuring your pet enjoys the very best nature has to offer. Sourced from human-grade animals raised ethically on European farms, these treats provide a guilt-free way to pamper your pet.
Introducing our Giant Sticks—an exceptional chew that keeps tails wagging. Crafted from 100% Camel, Lamb, Bully, Goat, Buffalo, Wild Boar, or Deer, these sticks are a testament to nature's bounty. Packed with premium protein, they offer a long-lasting chew that your pup will adore.
We believe in treating your pet right, which is why our Giant Sticks are not just delicious but also low in fat. This means your pet can enjoy a satisfying chew without excess calories. Plus, they're naturally gluten and grain-free, making them suitable for dogs with specific dietary needs.
For pets with sensitivities, our hypoallergenic sticks offer a gentle and wholesome snack option. We've kept them free from artificial additives, preservatives, and flavourings, ensuring every chew is as pure as can be.
Each stick is sold individually, giving you the flexibility to treat your pet to their favourite protein or mix things up for a delightful surprise. Whether your furry companion fancies Camel, Lamb, Bully, Goat, Buffalo, Wild Boar, or Deer, each Giant Stick promises a chew that's as extraordinary as they are.
Elevate treat time and give your pet the Anco experience. With our sustainably sourced Giant Sticks, you're not just offering a treat—you're providing a premium, ethical, and wholesome indulgence that your pet will cherish.
Treat them to Anco—where quality knows no bounds.
Ingredients
Camel: 100% Camel
Goat: 100% Goat
Lamb: 100% Lamb
Bully: 100% Beef
Bully Muscle: 100% Beef
Wild Boar: 100% Wild Boar

Typical Analysis
Camel: Protein 81.62%, Fat 7.80%, Ash 2.25%
Goat: Protein 56.26%, Fat 32.49%, Ash 4.6%
Lamb: Protein 54%, Fat 39%, Ash 2%
Bully: Protein 65.8%, Fat 6.1%, Ash 4.36%
Bully Muscle: Protein 69%, Fat 10%, Ash 2%
Wild Boar: Protein 46.8%, Fat 37.8%, Ash 1.1%

View full details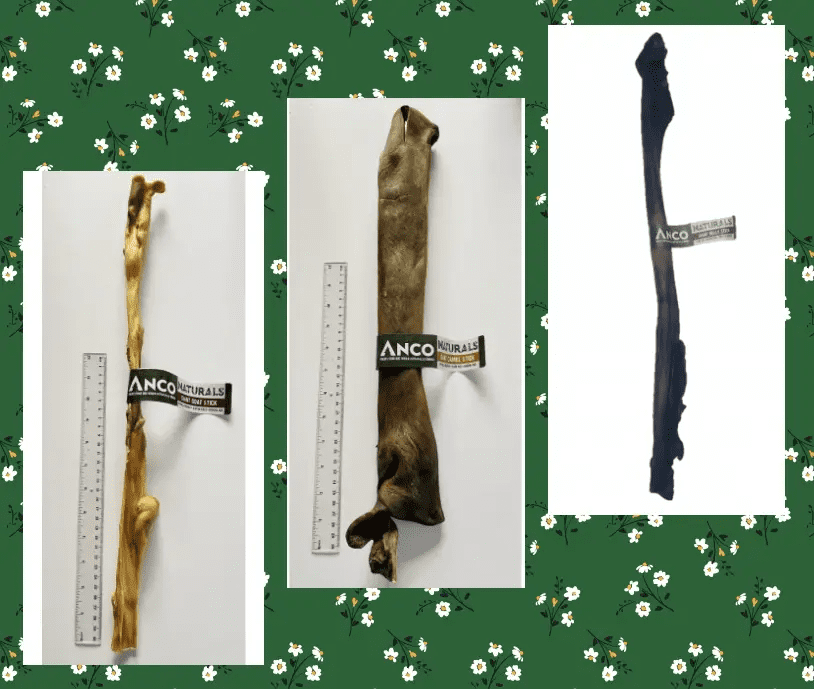 Shipping
We offer Local Delivery to multiple areas around our base, if you are interested in one of our delivery runs please check the Ordering and Delivery page to see if you are on one of our runs or contacts from the Contact Us page. No Frozen products can be shipped out by post, only by local delivery. For updates in our shop visit our Facebook Page.

If you would like to know more about us as a company, visit our page Our Story