Regular price
Sale price
£4.49
Unit price
per
Sale
Sold out
Share
Ancol Furry Rainbow Mice: Pint-Sized Playmates for Your Purrfect Companion!
Let your cat unleash their inner hunter with Ancol's Furry Rainbow Mice. These small, colorful toys are designed to mimic the thrill of chasing and capturing prey, providing your feline friend with hours of entertainment.
Crafted with faux fur, these mice have a realistic texture that's irresistible to cats. The soft, plush material is gentle on your cat's teeth and claws, making it safe for those enthusiastic play sessions. Watch as your pet bats, bites, and pounces on these tiny critters, engaging their natural instincts in a harmless and enjoyable way.
The pack includes six vibrant rainbow mice, ensuring you'll always have a fresh supply of playmates for your furry companion. They come in an array of eye-catching colors, adding an extra element of visual stimulation to playtime.
At Ancol, we're committed to sustainability. That's why we've taken steps to reduce our packaging and opt for materials that are both recycled and recyclable. When you choose Ancol, you're not only providing your pet with quality toys but also supporting eco-friendly practices.
These Furry Rainbow Mice are more than just toys—they're essential tools for your cat's mental and physical well-being. Play is a crucial part of a cat's routine, helping to relieve stress, sharpen hunting skills, and provide valuable exercise. Plus, it's simply a whole lot of fun!
Treat your cat to Ancol's Furry Rainbow Mice and watch as they pounce, bat, and play to their heart's content. With these delightful toys, you're giving your pet the opportunity to indulge in their natural instincts in a safe and engaging way. Get ready for endless hours of feline-friendly fun!
View full details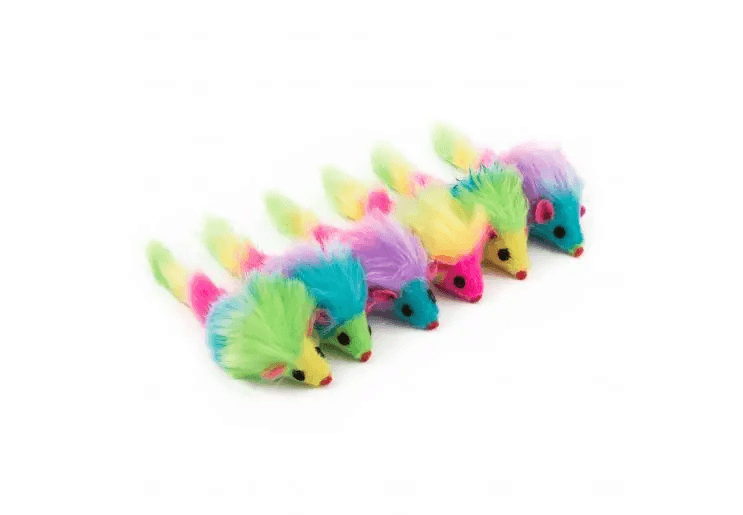 Shipping
We offer Local Delivery to multiple areas around our base, if you are interested in one of our delivery runs please check the Ordering and Delivery page to see if you are on one of our runs or contacts from the Contact Us page. No Frozen products can be shipped out by post, only by local delivery. For updates in our shop visit our Facebook Page.

If you would like to know more about us as a company, visit our page Our Story