Regular price
Sale price
£3.25
Unit price
per
Sale
Sold out
Share
Add a playful twist to your pet's playtime with Sportspet's Funny Face Hi Bounce balls! Available in a vibrant spectrum of colors including Pink, Yellow, Purple, Orange, Red, Blue, and Green, these balls are sure to capture your pet's attention and provide hours of entertainment.
Crafted with durability in mind, these Hi Bounce balls are designed to withstand energetic play sessions. Their unique construction allows them to spring and bounce, adding an element of unpredictability to playtime. This not only keeps your pet engaged but also promotes physical activity and exercise.
The Funny Face Hi Bounce balls are perfectly sized for both indoor and outdoor play. Whether it's a game of fetch in the backyard or a lively chase around the living room, these balls are up for the challenge. Their versatile nature makes them suitable for dogs of various sizes, ensuring fun for pets of all breeds.
The vibrant colors not only add a fun visual appeal but also make the balls easy to spot during play. Whether it's rolling under the furniture or hiding in the grass, you'll have no trouble locating these lively toys.
Sportspet takes pride in creating high-quality pet products, and these Hi Bounce balls are no exception. They are designed to withstand rigorous play, ensuring they'll be a favorite in your pet's toy collection for a long time.
Bring a dash of color and a whole lot of fun to your pet's playtime with Sportspet's Funny Face Hi Bounce balls. Watch as your furry friend enjoys the thrill of chasing, pouncing, and fetching these lively toys. Get ready for hours of laughter, exercise, and bonding with your beloved companion!
View full details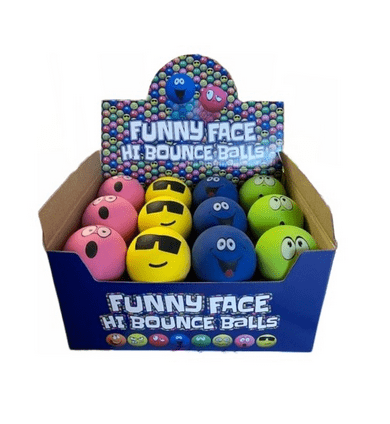 Shipping
We offer Local Delivery to multiple areas around our base, if you are interested in one of our delivery runs please check the Ordering and Delivery page to see if you are on one of our runs or contacts from the Contact Us page. No Frozen products can be shipped out by post, only by local delivery. For updates in our shop visit our Facebook Page.

If you would like to know more about us as a company, visit our page Our Story