Regular price
Sale price
£14.15
Unit price
per
Sale
Sold out
Share
Discover the incredible potency of Forever Bee Pollen, a true marvel among nature's offerings. This exceptional product encapsulates the remarkable vitality of the hive, presenting you with an exclusive formula enriched with the pure essence of natural bee pollen.
Forever Bee Pollen stands as a testament to the astounding nutritional wealth that can be found within the heart of a beehive. Packed with an array of essential nutrients, it is revered as one of nature's most comprehensive and nourishing foods.
Derived from the diligent efforts of honeybees, bee pollen is a treasure trove of vitamins, minerals, proteins, and enzymes. This extraordinary blend of natural compounds serves as a testament to the remarkable synergy between bees and the flowering world around them.
Incorporating Forever Bee Pollen into your daily routine means embracing a holistic approach to well-being. Whether used on its own or as a supplement to your existing regimen, you'll be harnessing the boundless potential that nature has to offer.
At Forever, we hold ourselves to the highest standards of quality and purity. Our Forever Bee Pollen is meticulously sourced and processed to ensure that you receive a product that is as close to nature's intent as possible. We understand the significance of this golden elixir and strive to preserve its innate goodness.
Embrace the abundance of life-enhancing properties that Forever Bee Pollen has to offer. Elevate your daily nutrition with this extraordinary gift from the hive. Experience vitality the natural way, with a product that encapsulates the very essence of bee-powered wellness.
Unlock the secrets of nature's vitality and infuse your life with the nourishing power of Forever Bee Pollen. Discover a more holistic approach to well-being and embrace the remarkable benefits that this remarkable gift from the hive has to offer. Elevate your daily nutrition with Forever Bee Pollen, and experience a renewed sense of vitality and wellness.
Ingredients
Bee Pollen, honey, anticaking agent (stearic acid, silicon dioxide), royal jelly freeze dried powder [royal jelly, maltodextrin].
Administration
Recommended daily dose for people: 3 Tablets
Begin by taking 1/4 tablet daily, then gradually increase intake to one tablet three times a day. Take tablets with meals, preferably with water.
For your protection, do not use if seal under cap is broken or missing. Keep out of reach of young children. Store tightly closed in a cool dry place. Do not exceed the stated recommended daily dose. Food Supplements should not be used as a substitute for a varied and balanced diet and a healthy lifestyle.
View full details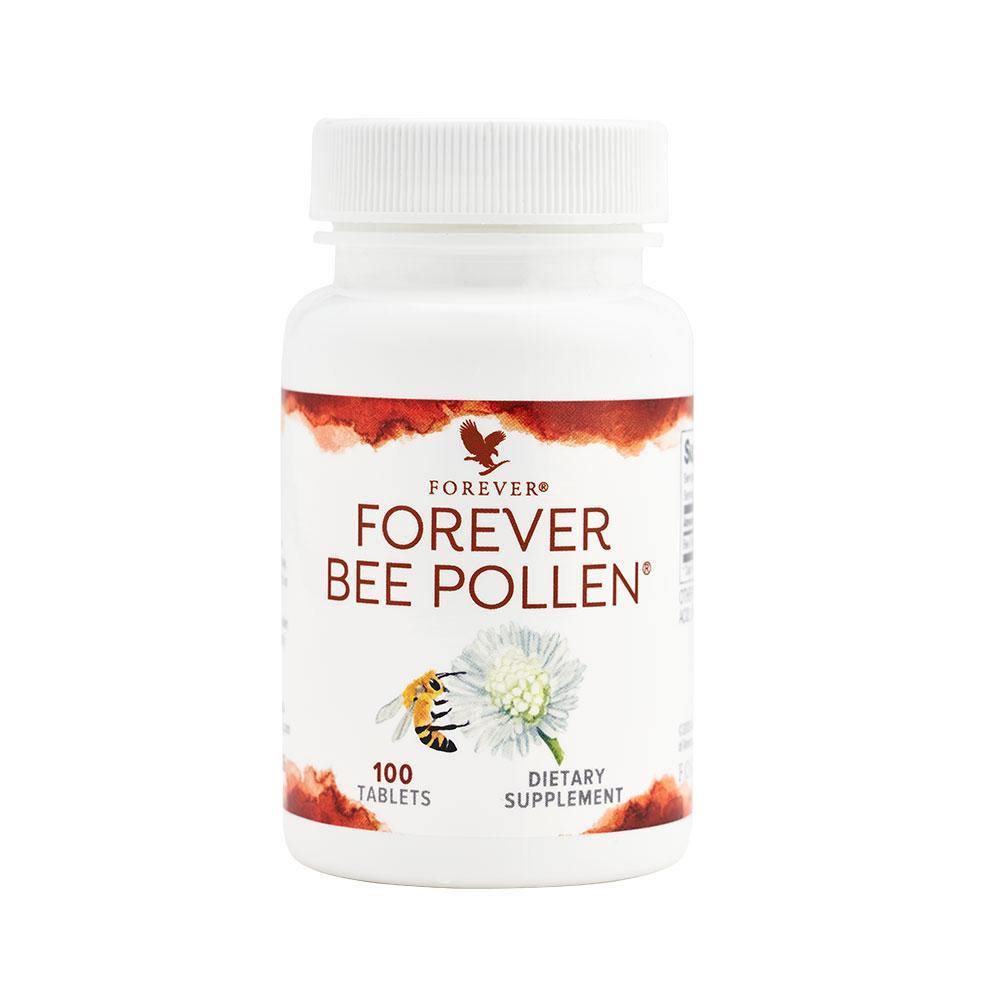 Shipping
We offer Local Delivery to multiple areas around our base, if you are interested in one of our delivery runs please check the Ordering and Delivery page to see if you are on one of our runs or contacts from the Contact Us page. No Frozen products can be shipped out by post, only by local delivery. For updates in our shop visit our Facebook Page.

If you would like to know more about us as a company, visit our page Our Story