Regular price
Sale price
£3.59
Unit price
per
Sale
Sold out
Share
Introducing the Flash Ball, the ultimate feline entertainment for your cherished pet. This innovative toy is designed to captivate your cat's attention and provide hours of exhilarating playtime.
With its vibrant colors and dynamic design, the Flash Ball is visually appealing and guaranteed to engage your cat's curiosity. The bright hues are carefully selected to catch your cat's eye and keep them entertained for extended periods.
The Flash Ball is equipped with built-in LED lights that flash and flicker, mimicking the movements of elusive prey. These captivating lights are activated by motion, instantly grabbing your cat's attention and encouraging them to pounce and play.
Designed with your cat's safety in mind, the Flash Ball is made from durable and non-toxic materials. You can have peace of mind knowing that your feline friend is engaging with a toy that prioritizes their well-being.
The Flash Ball is compact and lightweight, making it easy for your cat to bat, chase, and carry around. Its interactive nature promotes exercise and mental stimulation, contributing to your cat's overall health and well-being.
Whether your cat enjoys solo play or interactive sessions with you, the Flash Ball is a versatile toy that accommodates various play styles. Its unpredictable movements and mesmerizing lights will keep your cat engaged, providing endless entertainment.
Treat your cat to the Flash Ball and watch as they embark on a journey of excitement and playfulness. With its captivating design and stimulating features, this toy is sure to become a cherished addition to your cat's playtime repertoire. Give your furry friend the gift of endless fun with the Flash Ball for Cats.
Made From
N/A
Size
N/A
View full details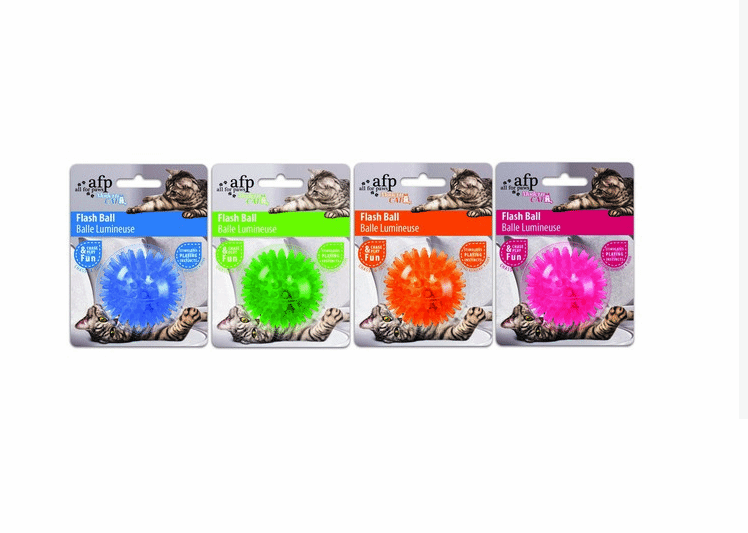 Shipping
We offer Local Delivery to multiple areas around our base, if you are interested in one of our delivery runs please check the Ordering and Delivery page to see if you are on one of our runs or contacts from the Contact Us page. No Frozen products can be shipped out by post, only by local delivery. For updates in our shop visit our Facebook Page.

If you would like to know more about us as a company, visit our page Our Story