Mixed Supplier
Regular price
Sale price
£6.25
Unit price
per
Sale
Sold out
Share
Introducing the ultimate sensory experience for your beloved canine companion – the Super Sensory Dog Ball. Crafted with careful consideration of your dog's five senses, this toy is designed to provide hours of engaging and stimulating play.
The bright and vibrant colors of the ball are not only visually appealing but also optimized for easy recognition by dogs. Their keen eyes will be drawn to this dynamic toy, ensuring they stay captivated during playtime.
To add an extra layer of excitement, we've infused an enticing beefy aroma into the toy. This delightful scent will capture your dog's attention, making the Super Sensory Dog Ball an instant favorite.
But that's not all – this interactive ball produces an intriguing sound whenever it's shaken or rolls. This auditory stimulation adds an exciting dimension to play, keeping your dog thoroughly entertained.
We understand that a toy's texture can greatly enhance the play experience. The surface of the ball is thoughtfully designed with a textured pattern, providing tactile feedback that your dog will find both intriguing and satisfying.
Crafted from TPR (thermoplastic rubber), this toy is not only visually stimulating but also durable and long-lasting. Your dog will appreciate the diverse sensory experiences this ball offers, making it a go-to choice for playtime.
The Super Sensory Dog Ball is a truly unique multi-sensory toy that your dog won't be able to resist. Whether they're chasing, shaking, or simply enjoying some solo play, this toy engages all their senses for a complete and enriching experience. Treat your furry friend to the Super Sensory Dog Ball and watch them revel in hours of delightful play.
View full details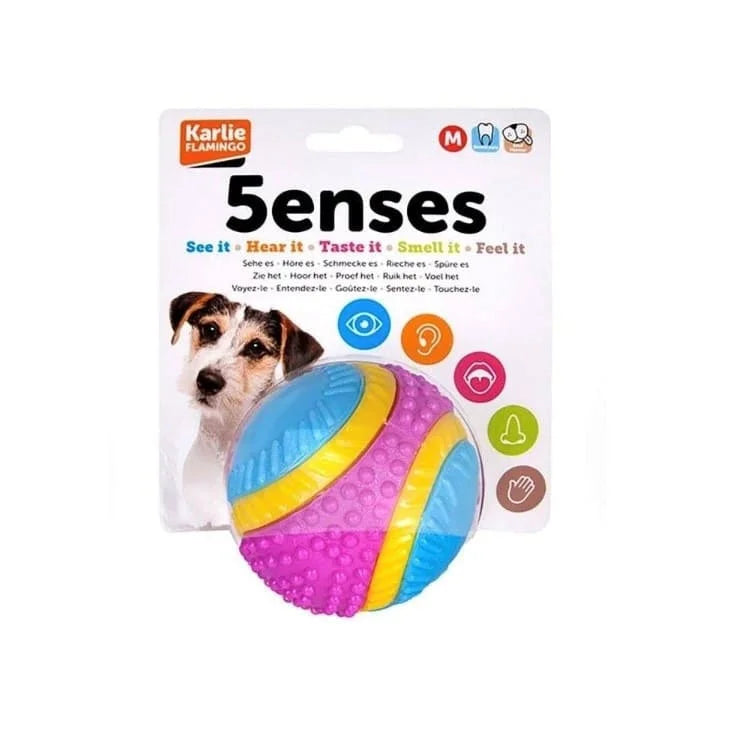 Shipping
We offer Local Delivery to multiple areas around our base, if you are interested in one of our delivery runs please check the Ordering and Delivery page to see if you are on one of our runs or contacts from the Contact Us page. No Frozen products can be shipped out by post, only by local delivery. For updates in our shop visit our Facebook Page.

If you would like to know more about us as a company, visit our page Our Story