Regular price
Sale price
£4.75
Unit price
per
Sale
Sold out
Share
Introducing our Chunky Fish-Skin Mighty Bars – a tooth-friendly snack that's as robust as it is delicious. Crafted from high-quality fish skin, these bars offer a satisfying chew that supports dental health while providing a wholesome treat for your pet.
Each pack contains two bars, available in both large and medium sizes. These bars are not only a delightful snack but also serve as a natural toothbrush, helping to reduce tartar build-up and promote good oral hygiene. The robust texture of the fish skin provides an engaging chew that keeps your pet occupied while benefiting their dental health.
Our Mighty Bars are made with care and attention to detail, ensuring that your pet receives only the best. The fish skin used in these bars is of the highest quality, providing a rich source of Omega-3 fatty acids. Omega-3 is known for its various health benefits, including supporting joint health, promoting a shiny coat, and contributing to overall vitality.
We believe in providing pets with treats that are not only enjoyable but also contribute to their well-being. That's why our Chunky Fish-Skin Mighty Bars are free from artificial additives, colours, and preservatives. You can feel confident knowing that you're offering your pet a snack that aligns with their nutritional needs.
Whether your pet enjoys the large or medium size, our Mighty Bars are sure to become a favourite in their treat repertoire. Treat your pet to the natural goodness of our Chunky Fish-Skin Mighty Bars and watch them delight in this tooth-friendly snack. Keep their dental health in check while providing a tasty reward – because your pet deserves the best.
Pack of 2
Ingredients:
White fish-skin
Typical Analysis:
N/A
View full details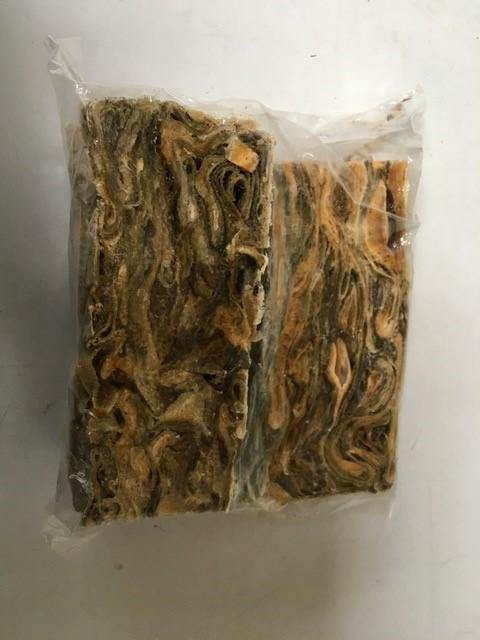 Fish skin bars.
Jake loves them , and his teeth are white and clean .
Hi Yvonne,
Thankyou for your great review, our dogs love the dried fish treat too!
Shipping
We offer Local Delivery to multiple areas around our base, if you are interested in one of our delivery runs please check the Ordering and Delivery page to see if you are on one of our runs or contacts from the Contact Us page. No Frozen products can be shipped out by post, only by local delivery. For updates in our shop visit our Facebook Page.

If you would like to know more about us as a company, visit our page Our Story