Regular price
Sale price
£4.95
Unit price
per
Sale
Sold out
Share
Dive into a world of nutritious, flavorful goodness with our air-dried fish skin treats! Crafted with care from 100% sustainably sourced fish skins, these treats are a testament to our commitment to quality and well-being. Handmade in Grimsby, they undergo no artificial processes, ensuring that every bite is as natural as it gets – just pure, wholesome goodness that dogs absolutely adore.
With no additives or preservatives, these treats are a clean, nutritious addition to your dog's diet. They're not just lip-smackingly delicious; they're also a powerhouse of health benefits. Packed with easily digestible protein and low in fat, they offer a guilt-free indulgence for your furry friend. What's more, they're an abundant source of Omega 3, which plays a crucial role in maintaining healthy joints, skin, coat, heart, eyes, and weight. Omega 3 also supports cognitive functions, enhancing focus, memory, and behavior.
The unique texture of these delightful cubes serves as a natural toothbrush, aiding in tartar removal and promoting dental health. They're available in two sizes to suit different breeds and preferences. The smaller variety is ideal for puppies and small dogs, while also serving as an excellent training treat for larger dogs.
At our core, we believe in providing pets with the very best, and that's exactly what you'll find in every pack of our fish skin treats. Choose from 100g, 200g, or 1kg packs, and treat your furry companion to a snack that's both scrumptious and beneficial. Please note that due to the natural nature of this product, colors and sizes may vary slightly – a testament to its authenticity and purity. Elevate treat time to a whole new level with our premium fish skin treats!
Ingredients
100% Fish skins

Typical Analysis
Moisture 7.13%, Protein 87.8%, Fat 2.56%, Fibre 1.0%, Ash 11.7%

View full details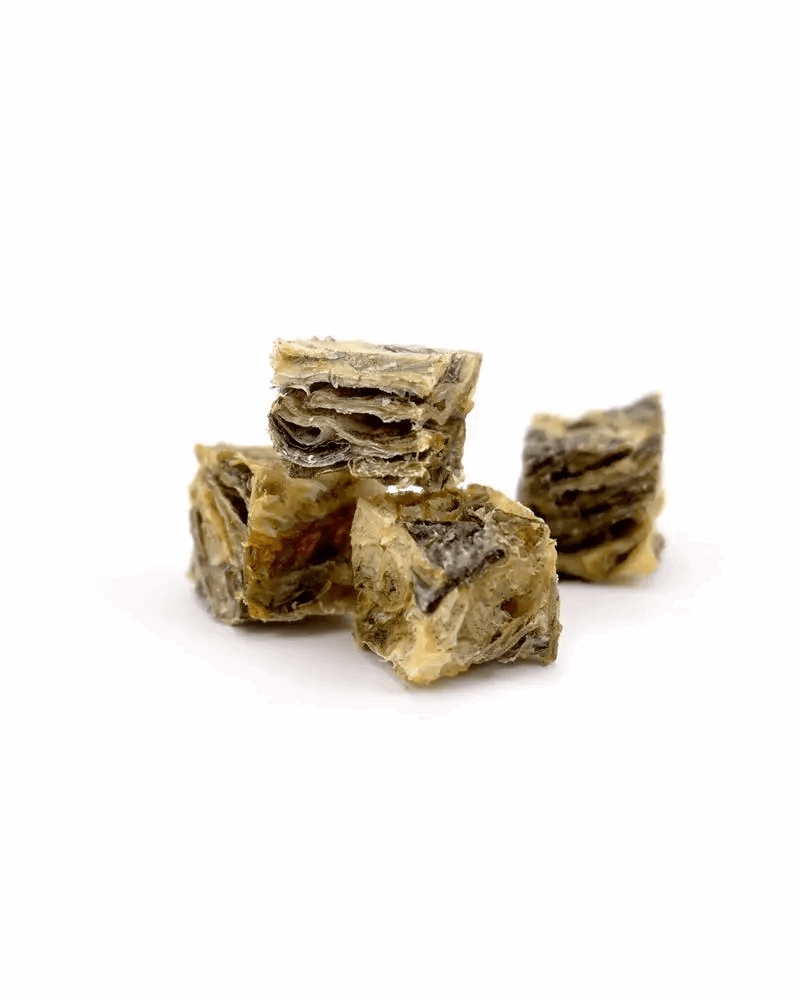 Shipping
We offer Local Delivery to multiple areas around our base, if you are interested in one of our delivery runs please check the Ordering and Delivery page to see if you are on one of our runs or contacts from the Contact Us page. No Frozen products can be shipped out by post, only by local delivery. For updates in our shop visit our Facebook Page.

If you would like to know more about us as a company, visit our page Our Story