Proflax
Regular price
Sale price
£10.45
Unit price
per
Sale
Sold out
Share
Elevate your cat's well-being with Proflax Feline Fine, a premium and 100% natural holistic superfood supplement. Carefully formulated to encompass a wide spectrum of health benefits, this supplement supports essential systems including the skin, coat, heart, brain, immune, and digestive functions.
Crafted with a blend of meticulously chosen herbs, Feline Fine goes above and beyond by promoting kidney and liver health, aiding in respiration, and imparting a calming influence on your feline friend.
This comprehensive supplement is designed to cater to cats of all breeds, ensuring that they receive the best possible support for their overall health. However, it is advisable not to administer Feline Fine to pregnant or nursing cats, as well as kittens under the age of 12 weeks old. Additionally, if your cat is known to have allergies or sensitivities to any of the ingredients listed, it is recommended to refrain from use.
As a responsible pet owner, it's crucial to be aware that if your cat has an underlying health condition, is currently taking medication, or is scheduled for surgery or anesthesia, it's best to consult your veterinarian prior to introducing this supplement into their diet. For utmost safety and efficacy, it is advisable to halt the use of Feline Fine five days before any surgical procedure or anesthesia.
Choose Proflax Feline Fine to provide your cherished feline companion with a premium and natural source of holistic support. Elevate their quality of life and ensure they thrive with the powerful benefits of this thoughtfully curated superfood supplement. Invest in your cat's health and well-being today with Proflax Feline Fine.

Ingredients:
75% Omega 3 rich (human food grade, FOS approved) fish oil blend (anchovy, sardine, herring, mackerel and tuna), 25% herbal tincture blend consisting of: Cordyceps, Angelica Sinensis, Astragalus, Eleutherococcus, Valerian, Cinnamon
Instructions for use:
Feed between 0.5ml to 1ml to every 2kg of cats weight per day. Feeding 2ml per day (4kg cat) this 100ml bottle will last 50 days and works out to .20p per day!

Store in the fridge once opened and in a cool, dark place prior to opening. Every bottle lasts 8-12 weeks when stored in the fridge after opening so please ensure that you purchase the correct sized bottle for your cats weight
View full details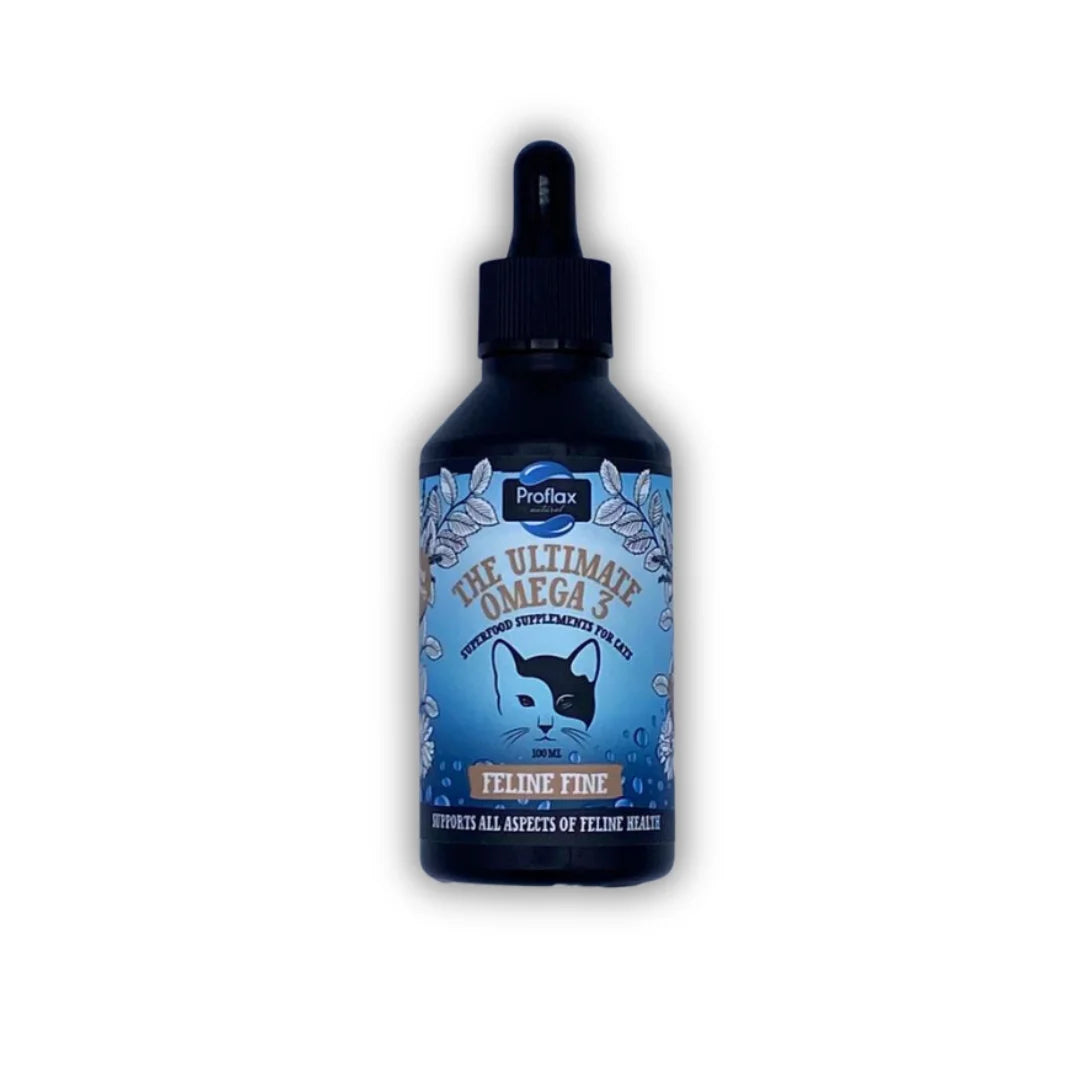 Shipping
We offer Local Delivery to multiple areas around our base, if you are interested in one of our delivery runs please check the Ordering and Delivery page to see if you are on one of our runs or contacts from the Contact Us page. No Frozen products can be shipped out by post, only by local delivery. For updates in our shop visit our Facebook Page.

If you would like to know more about us as a company, visit our page Our Story