Regular price
Sale price
£9.50
Unit price
per
Sale
Sold out
Share
Introducing our Fabric Cat Tunnel, a specially crafted haven for your feline friend. Made with the utmost attention to quality and designed with your kitty's comfort in mind, this tunnel is the perfect addition to your pet's playtime repertoire.
Constructed from high-quality materials, the Fabric Cat Tunnel provides a safe and cozy environment for your cat to engage in various activities. Whether it's a peaceful nap, interactive play, or a bit of exercise, this tunnel offers it all. It's a versatile space where your cat can indulge in their natural instincts and behaviors.
The tunnel features a spacious 25 cm entrance, allowing easy access for your cat to enter and exit comfortably. With a generous length of 64 cm, there's ample room for them to explore, play, and stretch out to their heart's content. This ensures your cat has plenty of space to move around and engage in their favorite activities within the tunnel.
Crafted from durable Oxford cloth, this woven fabric provides a sturdy and long-lasting construction. It's designed to withstand the wear and tear of regular use, making it an excellent investment for your pet's enjoyment. The fabric is not only robust but also safe and gentle on your cat's paws, ensuring a pleasant experience every time they enter the tunnel.
Not only is our Fabric Cat Tunnel a practical and stimulating addition to your pet's environment, but it also encourages healthy and active behavior. Whether your cat wants to hide, play, or simply relax, this tunnel provides a versatile and secure space to fulfill their needs.
Choose our Fabric Cat Tunnel for a premium quality accessory that enriches your cat's daily life. Give them a dedicated space to call their own, where they can play, rest, and thrive. Invest in their well-being and happiness with a tunnel that combines comfort, durability, and endless entertainment.
Material: Oxford cloth is a type of woven fabric.
View full details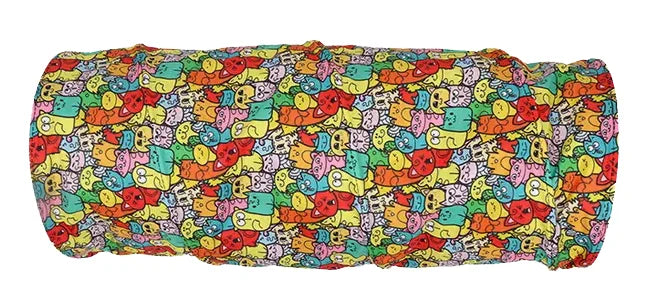 Shipping
We offer Local Delivery to multiple areas around our base, if you are interested in one of our delivery runs please check the Ordering and Delivery page to see if you are on one of our runs or contacts from the Contact Us page. No Frozen products can be shipped out by post, only by local delivery. For updates in our shop visit our Facebook Page.

If you would like to know more about us as a company, visit our page Our Story