Mixed Supplier
Regular price
Sale price
£12.99
Unit price
per
Sale
Sold out
Share
Introducing TropiClean Enticers Teeth Cleaning Gel, a delightful dental solution that turns toothbrushing into a canine favorite. Crafted with naturally derived ingredients, this gel boasts the power to obliterate 99.9% of harmful bacteria lurking in your dog's mouth. With sweet flavors that entice even the pickiest of pups, your furry friend will be eager for their daily toothbrushing routine.
We understand the importance of cruelty-free products, which is why TropiClean is committed to providing ethical dental care solutions for your pets. As a family-owned business, we take pride in delivering top-quality products that prioritize your pet's well-being.
In addition to our dedication to animal welfare, we've also taken steps to make our packaging eco-friendly and recyclable. This reflects our commitment to reducing our environmental impact while maintaining the highest standards of quality and efficacy.
At TropiClean, we believe in the power of natural ingredients. Our Enticers Teeth Cleaning Gel is free from artificial dyes and colors, ensuring a gentle yet effective dental care experience for your furry companion. Say goodbye to harsh chemicals, as our formula is sulfate and paraben-free, providing a safe and gentle solution for your pet's dental hygiene needs.
With a remarkable 99.1% of our ingredients being naturally derived, you can trust that you're providing your pet with the very best in dental care. Our gel, when used in conjunction with the included eco-friendly bamboo toothbrush, accelerates the removal of stubborn plaque and tackles bad breath, promoting optimal oral health for your beloved pet.
For tip-top teeth and a fresh, healthy smile, we recommend brushing your pet's teeth once daily with TropiClean Enticers Teeth Cleaning Gel. It's a simple, effective, and enjoyable way to prioritize your pet's dental well-being. Trust TropiClean for a happier, healthier smile!
Ingredients: Water, Glycerin, Hydroxypropyl Starch Phosphate, Xanthan Gum, Cetylpyridinium Chloride (0.5 mg/ml), Honey, Natural Peanut Butter Flavor, Citric Acid, Potassium Sorbate, Sodium Benzoate
View full details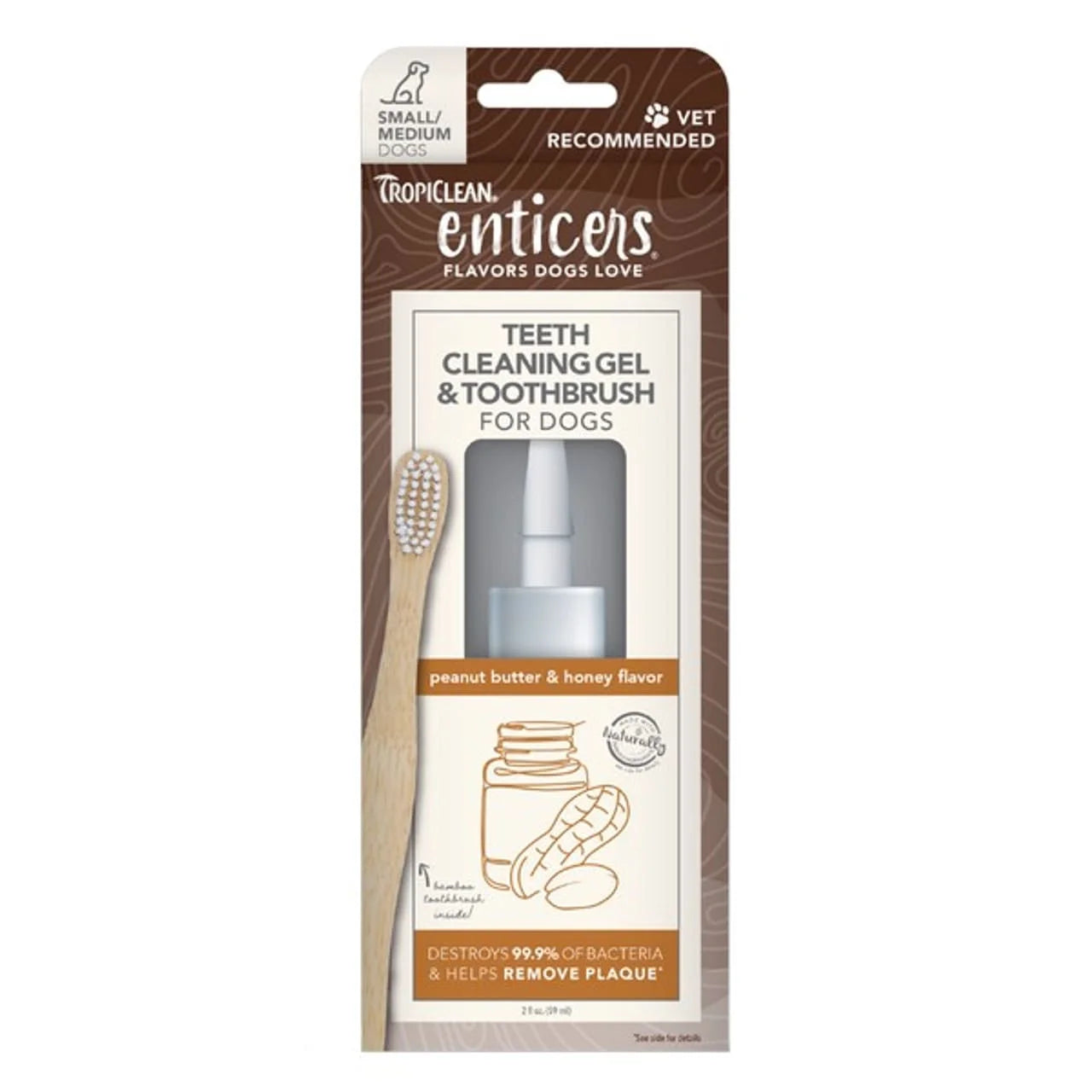 Shipping
We offer Local Delivery to multiple areas around our base, if you are interested in one of our delivery runs please check the Ordering and Delivery page to see if you are on one of our runs or contacts from the Contact Us page. No Frozen products can be shipped out by post, only by local delivery. For updates in our shop visit our Facebook Page.

If you would like to know more about us as a company, visit our page Our Story