Durham Animal Feeds
Regular price
Sale price
£3.45
Unit price
per
Sale
Sold out
Share
Introducing our premium frozen dog food, carefully portioned into convenient 1kg bags for your convenience. At [Brand Name], we prioritize the well-being of your furry companion, which is why our frozen dog food is crafted with the highest quality ingredients and absolutely no artificial additives.
Each 1kg bag contains a rich, unadulterated blend of real meat, providing essential B vitamins and calcium crucial for your pet's overall health and vitality. We believe in offering pets the best nature has to offer, without the need for artificial flavors, preservatives, or colors. With Naturally Healthy Pets, you can trust that you're providing your pet with a nutritious and wholesome meal.
Our individually frozen portions make mealtime a breeze. Simply thaw the desired amount and serve, ensuring your pet receives the optimal nutrition they need to thrive. Whether you have a small pup or a larger breed, our versatile 1kg portions cater to dogs of all sizes.
In addition to its nutritional benefits, our frozen dog food provides a delicious and satisfying meal experience for your furry friend. The natural flavors and high-quality meat make each bite a delightful moment for your pet, encouraging healthy eating habits and overall well-being.
At Naturally Healthy Pets, we're dedicated to transparency and quality. Our frozen dog food is produced with the utmost care, ensuring that each bag contains the purest, most nourishing ingredients. We understand that your pet deserves nothing but the best, and our frozen dog food reflects our commitment to their health and happiness.
Elevate your pet's mealtime experience with Naturally Healthy Pet's frozen dog food. With no artificial additives, just pure, real meat goodness, you can have peace of mind knowing you're providing the highest quality nutrition for your beloved companion. Choose Naturally Healthy Pets for a frozen dog food that's as exceptional as your pet.
Ingredients
Whole Duck Wings
Typical Analysis
Protein %, oil %, moisture %
View full details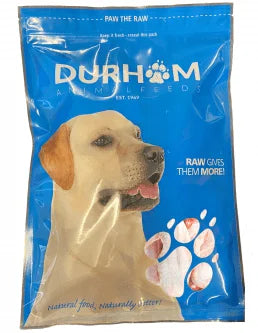 Shipping
We offer Local Delivery to multiple areas around our base, if you are interested in one of our delivery runs please check the Ordering and Delivery page to see if you are on one of our runs or contacts from the Contact Us page. No Frozen products can be shipped out by post, only by local delivery. For updates in our shop visit our Facebook Page.

If you would like to know more about us as a company, visit our page Our Story