Multi-Brand
Regular price
Sale price
£3.49
Unit price
per
Sale
Sold out
Share
Introducing our Raw Duck Necks, a nutritious and flavorful treat for your beloved pet. Sourced from trusted providers, these necks are freshly frozen and conveniently packaged in bags weighing approximately 1kg. Each bag contains around 7-9 duck necks, making it easy to portion out for your furry friend.
Duck necks are a natural source of essential nutrients, including protein, calcium, and other vital minerals. They contribute to your pet's overall health, supporting strong bones, muscles, and a robust immune system. The combination of crunchy bone and tender meat provides a satisfying chewing experience, promoting dental health and helping to keep teeth clean.
At The Dogs Butcher, we take pride in offering high-quality, ethically sourced products. Our duck necks are no exception. They are handled with care, ensuring that your pet receives a premium treat that meets our stringent quality standards.
These raw duck necks are a versatile option for pets of various sizes and breeds. Whether offered as an occasional treat or incorporated into their regular meals, they are sure to become a favorite. The freezing process preserves their natural goodness and flavor, ensuring that your pet receives the full spectrum of nutrients.
We are committed to providing raw, unprocessed options for your pet's optimal health. Our duck necks are exactly that—raw and unaltered, preserving their natural integrity. This raw form allows your pet to thrive and maintain overall well-being.
Choose our Raw Duck Necks for a high-quality, natural treat that your pet will love. With no artificial additives or processing, you can trust that you're providing the very best for your furry companion. Watch as they enjoy the satisfaction of a tasty, protein-rich treat that supports their overall well-being.
Elevate your pet's treat game with our Raw Duck Necks. Order your pack today and let your pet experience the joy of this wholesome, natural delicacy!
Ingredients
100% Duck necks
Typical Analysis
Water 74.4%,  Protein 18.5%,  Fat 5.5%,  Ash 1.1%,  Fibre 0.1%
View full details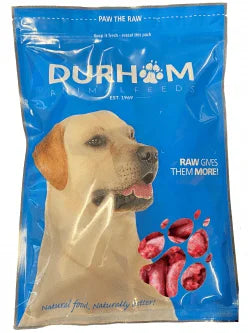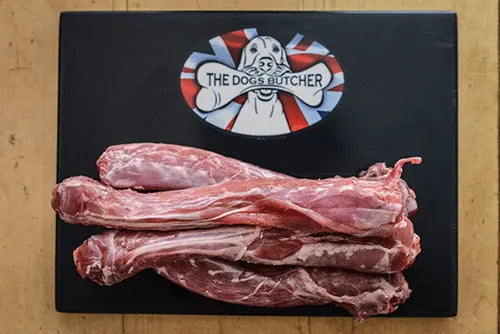 Shipping
We offer Local Delivery to multiple areas around our base, if you are interested in one of our delivery runs please check the Ordering and Delivery page to see if you are on one of our runs or contacts from the Contact Us page. No Frozen products can be shipped out by post, only by local delivery. For updates in our shop visit our Facebook Page.

If you would like to know more about us as a company, visit our page Our Story