Regular price
Sale price
£4.25
Unit price
per
Sale
Sold out
Share
Introducing Chicken Breast Fillets, a delectable and wholesome treat that's bound to become a favourite with your furry friend. These fillets are crafted with care, air dried to perfection to preserve their natural goodness and irresistible flavour.
What sets our Chicken Breast Fillets apart is their simplicity. We believe in providing treats that are pure, free from additives, and true to their natural form. These fillets contain nothing but 100% premium chicken breasts, ensuring that your pet receives only the best.

With a protein content of 49%, these fillets are a high-quality source of this essential nutrient. Protein plays a crucial role in maintaining your pet's overall health, supporting muscle development, and promoting a strong immune system. Additionally, these fillets are delightfully low in fat at just 8%, making them an excellent choice for pets who may benefit from a controlled-fat diet.

One of the standout features of our Chicken Breast Fillets is their ability to satisfy your pet's natural chewing instinct. The texture and density of the fillets make them an engaging and enjoyable treat. This is particularly beneficial for dogs who may benefit from mental stimulation and a healthy outlet for their chewing behavior.

We understand the importance of providing treats that align with your pet's dietary needs. That's why our Chicken Breast Fillets are free from preservatives and additives. This ensures that your pet receives a treat that's as close to nature as possible.

Each pack is filled with these delightful fillets, providing your pet with a generous supply of their new favourite treat. Whether you're using them as a reward during training sessions or simply as a special snack, our Chicken Breast Fillets are sure to bring joy to your pet's day.

The typical analysis of our Chicken Breast Fillets reveals their exceptional nutritional profile. With a moisture content of 12% and an ash content of 8%, these fillets strike a balance that complements your pet's diet.

Treat your furry friend to a taste sensation they'll adore. Our Chicken Breast Fillets offer a combination of flavor, nutrition, and engagement that's hard to beat. Elevate their snacking experience with these wholesome, air-dried fillets, and watch as they savor every delicious bite.
Available in packs of 2 or 100g packs
View full details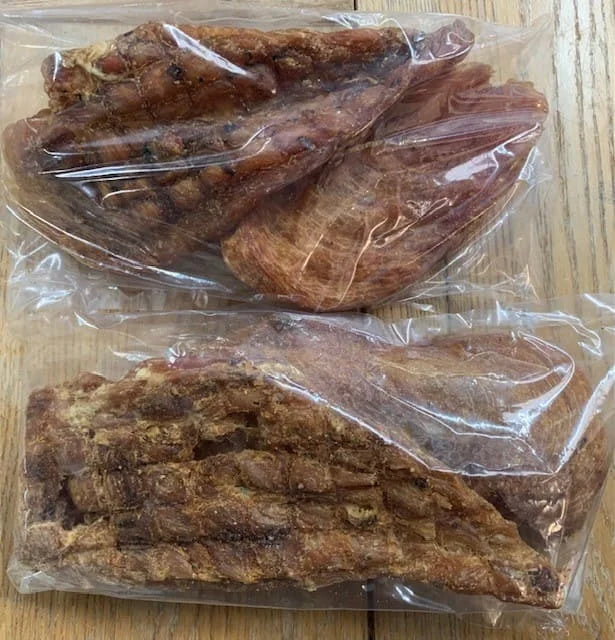 Shipping
We offer Local Delivery to multiple areas around our base, if you are interested in one of our delivery runs please check the Ordering and Delivery page to see if you are on one of our runs or contacts from the Contact Us page. No Frozen products can be shipped out by post, only by local delivery. For updates in our shop visit our Facebook Page.

If you would like to know more about us as a company, visit our page Our Story