Mixed Supplier
Regular price
Sale price
£8.99
Unit price
per
Sale
Sold out
Share
Introducing our powerful Disinfectant Wipes for Dogs, a versatile solution designed to keep your pet and their environment clean and healthy. These wipes boast an impressive 99.999% effectiveness against viruses, bacteria, and fungi, ensuring a thorough and reliable clean.
With 100 wipes per pack, you'll have an ample supply of these handy wipes to address various cleaning needs. The biodegradable and compostable fabric used underscores our commitment to environmentally-friendly products, providing a sustainable option for conscientious pet owners.
These wipes serve multiple purposes, making them a valuable addition to your pet care routine. Whether you need to clean your dog's ears, address yeasty wrinkles, or give them a quick wipe down after a walk, these wipes are up to the task. Additionally, they're ideal for disinfecting collars, leads, and any other equipment your dog may come into contact with.
One of the key benefits of these wipes is their deodorizing properties, making them an effective solution for managing unpleasant odors in between baths. Keep your furry friend smelling fresh and clean with a quick wipe down using our Disinfectant Wipes.
Rest assured, this product meets the stringent EN14476 standard, ensuring its effectiveness against all enveloped viruses. This commitment to quality and safety reflects our dedication to providing premium products for your pet's well-being.
Each wipe measures a generous 30 cm x 25 cm, providing a sizable surface area for thorough cleaning. Whether you're addressing specific areas or giving your pet a comprehensive wipe down, these wipes are designed to accommodate your needs.
Choose our Disinfectant Wipes for Dogs for a reliable and eco-conscious solution to maintaining a clean and healthy environment for your furry companion. With their exceptional effectiveness and biodegradable fabric, you can trust that you're making a responsible choice for both your pet and the planet.
View full details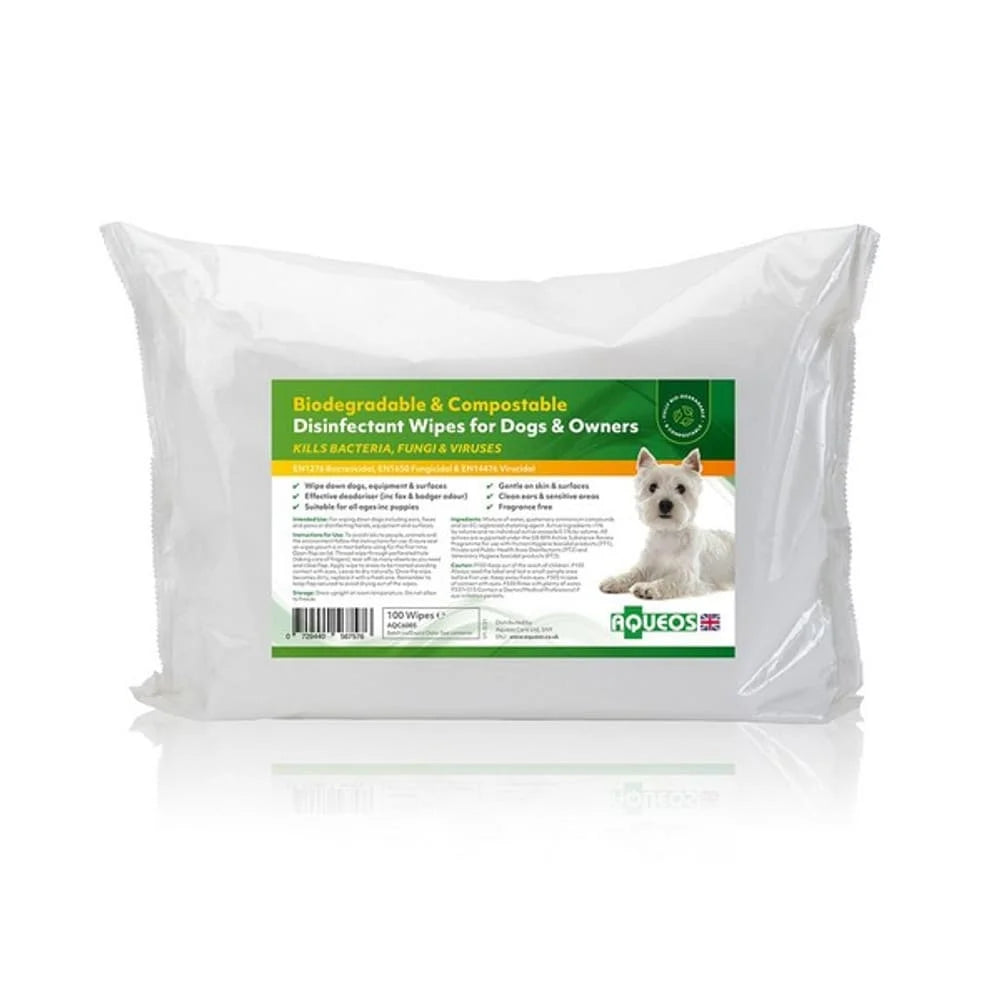 Shipping
We offer Local Delivery to multiple areas around our base, if you are interested in one of our delivery runs please check the Ordering and Delivery page to see if you are on one of our runs or contacts from the Contact Us page. No Frozen products can be shipped out by post, only by local delivery. For updates in our shop visit our Facebook Page.

If you would like to know more about us as a company, visit our page Our Story