Regular price
Sale price
£11.53
Unit price
per
Sale
Sold out
Share
Introducing our Digestive Comfort Solution, a natural remedy crafted to offer relief from minor digestive issues that may trouble your beloved pets. This carefully formulated solution is designed to address common symptoms such as vomiting, bad breath, diarrhea, flatulence, and retained gas.
Our Digestive Comfort Solution is a gentle alternative, free from harsh chemicals and known side effects. We prioritize your pet's well-being, making this solution safe for puppies, kittens, as well as pregnant and nursing animals. With up to 90 doses per bottle (depending on weight), it provides great value for your furry friend's comfort and relief.
The easy-to-administer liquid form ensures hassle-free dosing, making it a convenient option for pet owners. Simply add the recommended dosage to your pet's food or administer directly, and watch as they experience the benefits.
This bottle contains a generous 450 drops, ensuring you have an ample supply of this soothing solution to help alleviate your pet's discomfort. It's a reliable addition to your pet care toolkit, providing peace of mind knowing you have a natural remedy on hand.
Prioritize your pet's digestive health with our Digestive Comfort Solution. Whether your pet is experiencing occasional discomfort or you want to be prepared for any digestive hiccups, this solution offers a gentle and effective option. With no harsh chemicals or known side effects, you can trust that you're providing the best care for your furry companion. Keep their tummy troubles at bay with this natural remedy that's as easy to administer as it is effective.
Ingredients
Arg nit 6c, 30c, Arsenicum alb 6c, 30c, Colocynthis 6c, 30c, Hypericum 6c, 30c, Pulsatilla 6c, 30c, Veratrum alb 6c, 30c in 20% USP alc. in purified water.
Administration
N/A
View full details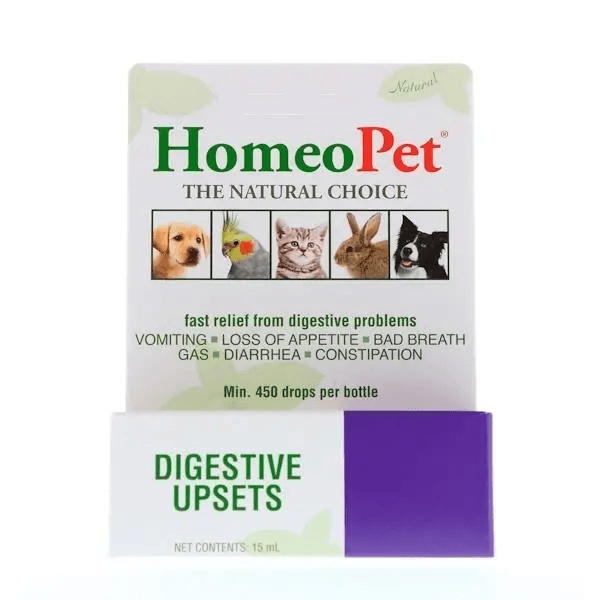 Shipping
We offer Local Delivery to multiple areas around our base, if you are interested in one of our delivery runs please check the Ordering and Delivery page to see if you are on one of our runs or contacts from the Contact Us page. No Frozen products can be shipped out by post, only by local delivery. For updates in our shop visit our Facebook Page.

If you would like to know more about us as a company, visit our page Our Story