Regular price
Sale price
£5.75
Unit price
per
Sale
Sold out
Share
Introducing TropiClean Deep Cleaning Deodorizing Pet Wipes, your go-to solution for a quick and effective clean between baths. These wipes have been specially formulated to provide a deep and thorough clean, washing away dirt, dander, and pet odor, so your furry friend can stay fresh and cuddle-ready.
Our mild coconut cleanser is at the heart of these wipes, lifting away dirt, drool, and more from your pet's paws, face, body, and backside. This gentle yet effective cleanser ensures that your pet's coat and skin are left feeling clean and rejuvenated.
With TropiClean Deep Cleaning Pet Wipes, you have a versatile cleaning solution suitable for both dogs and cats. Whether your pet has been on an outdoor adventure or simply needs a quick touch-up, these wipes are up to the task.
Convenience is key, and our wipes provide a hassle-free way to keep your pet clean and comfortable. No need for a full bath when you have these wipes on hand. Plus, the deodorizing properties leave your pet smelling fresh and pleasant.
These wipes are a must-have for any pet owner, offering a simple and quick cleaning solution that fits seamlessly into your pet care routine. Whether it's a paw wipe after a walk or a face wipe to freshen up, TropiClean Deep Cleaning Pet Wipes have you covered.
Experience the ease and effectiveness of our deep cleaning pet wipes. Say goodbye to dirt, dander, and unpleasant odors, and say hello to a cleaner, happier pet. Trust TropiClean for a simple yet thorough cleaning solution that keeps your furry friend looking and feeling their best.
Ingredients
Purified Water, Glycerine, Mild Coconut Cleanser, Aloe Extract, Propylene Glycol, Benzoic Acid, Witch Hazel
View full details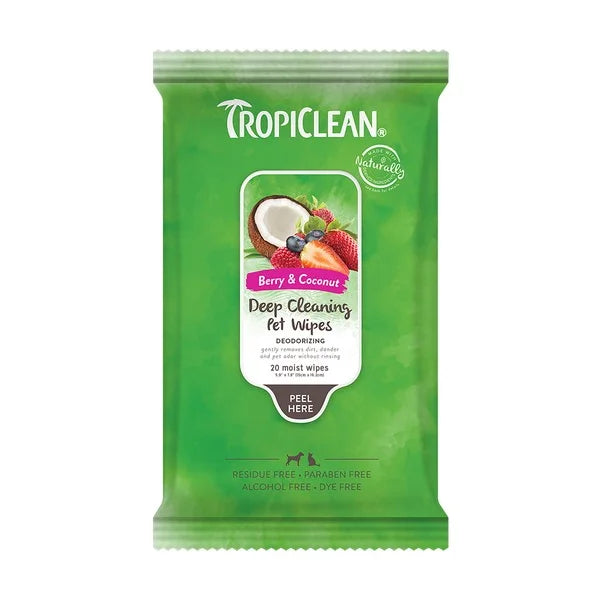 Shipping
We offer Local Delivery to multiple areas around our base, if you are interested in one of our delivery runs please check the Ordering and Delivery page to see if you are on one of our runs or contacts from the Contact Us page. No Frozen products can be shipped out by post, only by local delivery. For updates in our shop visit our Facebook Page.

If you would like to know more about us as a company, visit our page Our Story