Regular price
Sale price
£11.53
Unit price
per
Sale
Sold out
Share
Introducing Homeopet Cough, a trusted solution designed to provide temporary relief for pets experiencing a persistent, barky cough, sneezing, and dry nose - common symptoms often encountered after kenneling or boarding.
Addressing Troubling Symptoms:
Barky Cough: Homeopet Cough is specifically formulated to alleviate the discomfort associated with a persistent, barky cough, helping your pet find relief.

Dry Nose: This soothing remedy also targets dry nose, easing your pet's discomfort and restoring moisture to their nasal passages.

Sneezing: Persistent sneezing can be distressing for pets. Homeopet Cough offers a natural approach to help reduce sneezing episodes and provide comfort.
Remarkable Benefits:
Chemical-Free Relief: Homeopet Cough is crafted with a commitment to natural healing, free from harsh chemicals that may have unwanted side effects.

Gentle and Safe: With no known side effects, this formula is suitable for puppies, kittens, pregnant, and nursing animals, offering gentle care for your beloved pets.

Cost-Effective Solution: Each bottle of Homeopet Cough contains up to 90 doses (depending on weight), ensuring you get excellent value for your investment in your pet's well-being.

Effortless Liquid Dosing: Administering Homeopet Cough is a breeze. The easy-to-use liquid formula allows for convenient and accurate dosing, making it stress-free for both you and your pet.
Nurturing Ingredients:
Arsenicum Alb, Baryta Carb, Drosera Rotundifolia, Spongia: These carefully selected homeopathic ingredients are blended to target and alleviate the symptoms of coughing, sneezing, and dry nose.

20% USP Alcohol in Purified Water: This balanced base ensures the effective delivery of the active ingredients, facilitating their absorption and effectiveness.
Administration:
For specific dosing instructions, please refer to the packaging or consult your veterinarian.
Elevate your pet's well-being with Homeopet Cough - a natural, safe, and effective remedy for barky cough, dry nose, and sneezing. Trust in a solution that puts your pet's health and comfort first, without the worry of harsh chemicals or known side effects. Provide them with the care they deserve, and watch them thrive.
View full details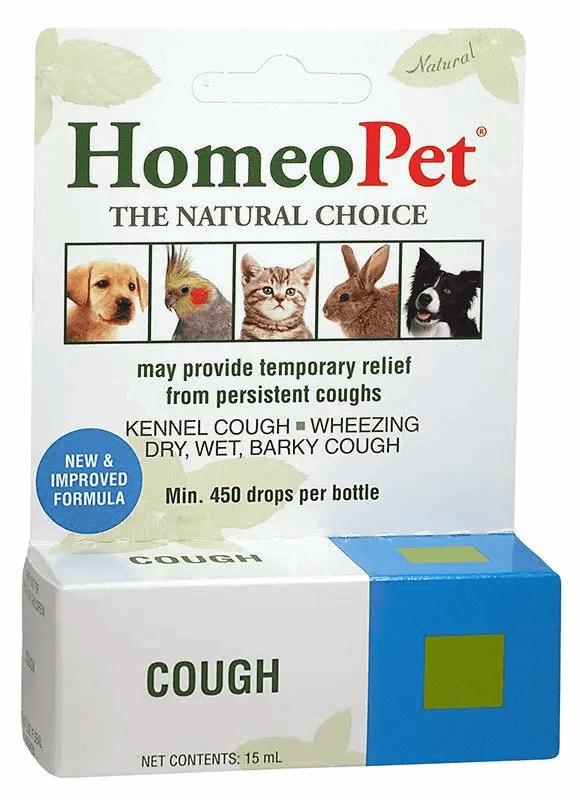 Shipping
We offer Local Delivery to multiple areas around our base, if you are interested in one of our delivery runs please check the Ordering and Delivery page to see if you are on one of our runs or contacts from the Contact Us page. No Frozen products can be shipped out by post, only by local delivery. For updates in our shop visit our Facebook Page.

If you would like to know more about us as a company, visit our page Our Story