Regular price
£6.00
Sale price
£5.00
Unit price
per
Sale
Sold out
Share
"Canine Health Concern – Common Ailments" is an invaluable resource for any dog owner seeking to prioritize their furry friend's well-being. This comprehensive guide is divided into two informative parts, each addressing various aspects of canine health and providing valuable insights for maintaining a happy and healthy companion.
Part One serves as a foundational manual, covering crucial topics such as Diet, Environment, Homeopathy, Herbs, Complementary Healthcare, and essential Things To Avoid. It emphasizes the significance of a balanced and nourishing diet, highlighting the profound impact it has on a dog's overall health. By creating a wholesome environment and incorporating complementary healthcare practices, dog owners can proactively enhance their pet's quality of life. This section also emphasizes the importance of steering clear of harmful toxins, ensuring a safe and nurturing living space.
Part Two delves deeper into specific health concerns and provides valuable insights into addressing them effectively. From Allergies to Viral and Bacterial Disease, this section encompasses an extensive array of common ailments that dogs may encounter during their lifetime. The guide offers practical approaches and alternatives to conventional veterinary treatments, empowering owners to make informed decisions about their pet's healthcare.
One of the book's core messages is that with proper care and preventive measures outlined in Part One, many of the issues covered in Part Two can be avoided altogether. By nurturing a healthy foundation and being mindful of potential stressors and toxins, dog owners can significantly reduce the likelihood of encountering serious health concerns.
"Canine Health Concern – Common Ailments" ultimately serves as a powerful tool for dog owners committed to providing their pets with the best possible care. It emphasizes the importance of a holistic and proactive approach to canine health, allowing dogs to enjoy a life filled with vitality, companionship, and joy. This guide is an indispensable resource, offering a wealth of knowledge and practical advice for safeguarding the well-being of our beloved canine companions. With this book in hand, dog owners can navigate their pet's health journey with confidence, knowledge, and a deep sense of care.
View full details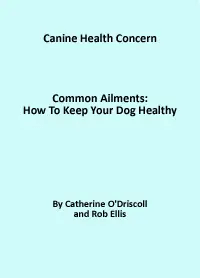 Shipping
We offer Local Delivery to multiple areas around our base, if you are interested in one of our delivery runs please check the Ordering and Delivery page to see if you are on one of our runs or contacts from the Contact Us page. No Frozen products can be shipped out by post, only by local delivery. For updates in our shop visit our Facebook Page.

If you would like to know more about us as a company, visit our page Our Story