Regular price
Sale price
£4.70
Unit price
per
Sale
Sold out
Share
Introducing the Classic Non-Slip Stainless Steel Bowl, a premium feeding solution designed to elevate your pet's dining experience. Crafted with care, this stainless steel food bowl offers both functionality and durability, ensuring a reliable companion for mealtime.
The key feature of this bowl is its non-slip base, which provides stability during mealtime and prevents unnecessary spills or tipping. This thoughtful design element adds an extra layer of convenience to your pet's dining routine, giving you peace of mind knowing that they can enjoy their meal without any disruptions.
Crafted from high-quality stainless steel, this bowl is built to last. Stainless steel is known for its robustness, resistance to rust, and easy maintenance, making it an excellent choice for pet bowls. It's a material that stands up to the rigors of daily use, ensuring that your pet can enjoy their meals from a reliable and long-lasting vessel.
The Classic Non-Slip Stainless Steel Bowl comes in various sizes, allowing you to choose the perfect fit for your pet. Whether you have a small, medium, or large breed, there's an option that suits their specific needs. This versatile range ensures that pets of all sizes can benefit from the quality and convenience this bowl provides.
In addition to its durability and practicality, the sleek and timeless design of this stainless steel bowl complements any feeding area. Its clean lines and polished finish add a touch of sophistication to your pet's dining space, seamlessly blending with your home decor.
Invest in the Classic Non-Slip Stainless Steel Bowl to enhance your pet's mealtime experience. With its sturdy construction, non-slip base, and easy-to-clean stainless steel material, this bowl offers unbeatable value. Choose the size that best suits your pet's needs and enjoy the benefits of a reliable and stylish feeding solution.
Elevate your pet's dining experience with this classic and functional stainless steel bowl. Order yours today and provide your furry friend with a durable, non-slip, and stylish feeding solution that stands the test of time.
View full details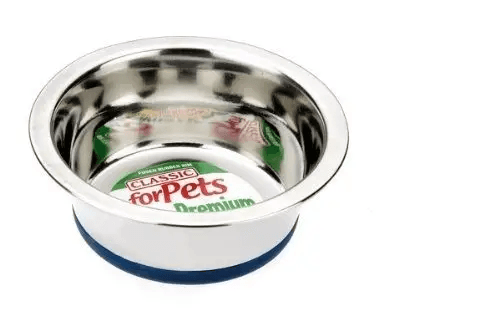 Shipping
We offer Local Delivery to multiple areas around our base, if you are interested in one of our delivery runs please check the Ordering and Delivery page to see if you are on one of our runs or contacts from the Contact Us page. No Frozen products can be shipped out by post, only by local delivery. For updates in our shop visit our Facebook Page.

If you would like to know more about us as a company, visit our page Our Story