Regular price
Sale price
£3.99
Unit price
per
Sale
Sold out
Description

Introducing the Christmas Soft-Toy Stocking – a charming and festive surprise for your furry friend this holiday season. This delightful stocking is not just a decorative piece; it's a soft-toy wonderland designed to bring joy and playfulness to your dog's Christmas experience. Crafted with care and adorned with festive flair, the Christmas Soft-Toy Stocking promises to be a delightful addition to your pet's holiday celebrations.

The Christmas Soft-Toy Stocking is more than just a container for treats; it's a playtime companion for your beloved dog. The stocking is generously filled with a variety of stuffed soft toys, each adorned with festive colors and holiday-themed details. These soft toys are designed to engage your dog in interactive play, providing them with hours of entertainment and a touch of holiday magic.

Imagine the delight on your dog's face as they discover the Christmas Soft-Toy Stocking, filled to the brim with a festive assortment of plush playthings. The high-quality materials ensure that these toys are not only adorable but also safe for your pet to enjoy. From squeaky toys to cuddly companions, the stocking offers a diverse range of textures and shapes, catering to various play preferences.

The festive design of the Christmas Soft-Toy Stocking adds a delightful touch to your holiday decor while providing a source of joy for your dog. Whether your furry friend loves to toss, chew, or snuggle with their toys, this stocking has something for every playtime mood. It's a thoughtful way to include your pet in the festive celebrations, making them an active participant in the joyous atmosphere of Christmas.

This Christmas Soft-Toy Stocking isn't just a gift for your dog; it's a gift for the whole family as you watch your furry friend indulge in holiday-themed play. The variety of stuffed soft toys ensures that the stocking remains a source of entertainment throughout the season, keeping your dog engaged and happy. Hang it by the fireplace or place it under the tree – wherever it is, this stocking is sure to become a focal point of festive fun.

In summary, the Christmas Soft-Toy Stocking is a festive and interactive treat for your dog this Christmas. Crafted with high-quality materials and filled with an assortment of stuffed soft toys, this stocking is a delightful addition to your pet's holiday experience. Bring joy, laughter, and holiday magic to your furry friend with this thoughtfully designed Christmas stocking that promises to make their Christmas playtime extra special.
Made From

Crafted from high-quality, pet-safe materials
Stuffed soft toys for interactive play
Festive design for holiday-themed play
Generous assortment of stuffed soft toys
Share
View full details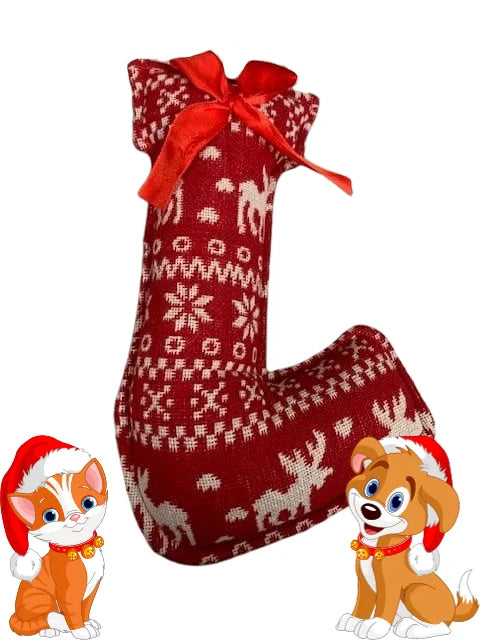 Shipping
We offer Local Delivery to multiple areas around our base, if you are interested in one of our delivery runs please check the Ordering and Delivery page to see if you are on one of our runs or contacts from the Contact Us page. No Frozen products can be shipped out by post, only by local delivery. For updates in our shop visit our Facebook Page.

If you would like to know more about us as a company, visit our page Our Story