Durham Animal Feeds
Regular price
Sale price
£3.45
Unit price
per
Sale
Sold out
Description

Introducing our Raw Chicken Necks, a natural and nutritious treat that offers a range of benefits for your furry friend. These chicken necks provide an excellent source of calcium, essential for maintaining strong bones and teeth. Additionally, their natural texture and shape act as a natural toothbrush, helping to keep your dog's dental hygiene in check.

Perfect for larger dogs or as a part of a balanced meal for smaller breeds, these chicken necks are a versatile addition to your pet's diet. Whether it's a tasty snack or a nutritious component of their regular meals, our chicken necks are bound to become a new favorite in your dog's routine.

Each bag is filled with chicken necks that have been carefully weighed to approximately 1kg, ensuring you receive a generous supply of this wholesome treat. This means you can easily incorporate them into your pet's diet, offering them a consistent source of essential nutrients.

Our Chicken Necks are raw, preserving their natural goodness and flavor. This means your pet is getting the full benefit of this nutritious treat without any unnecessary processing. The raw form also provides an enjoyable chewing experience for your dog, giving them a satisfying and engaging snack.

Invest in your pet's well-being and dental health with our Raw Chicken Necks. Treat them to a natural snack that's not only delicious but also packed with essential nutrients. Watch as they enjoy the satisfying chew while reaping the benefits of improved dental hygiene and enhanced overall health. With no artificial additives, you can have peace of mind knowing you're giving your pet a treat that's both wholesome and delicious.
Ingredients

We believe in providing only the best for your pet, which is why our chicken necks contain no artificial colors, preservatives, additives, cereals, or fillers. You can trust that you're offering your pet a treat that's free from unnecessary and potentially harmful ingredients.
Typical Analysis

The typical analysis of our Chicken Necks demonstrates their nutritional value. With a protein content of 15% and a moderate fat content of 5%, they offer a well-rounded profile that supports your dog's overall health and vitality. The moisture content of 69% ensures they remain tender and juicy, making them an irresistible treat for your furry companion.
Share
View full details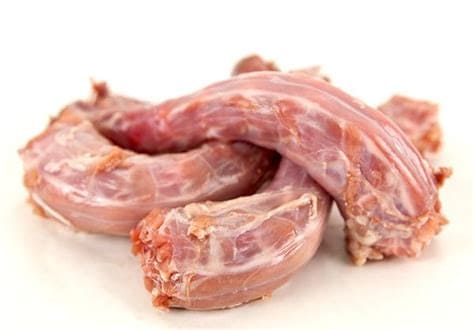 Shipping
We offer Local Delivery to multiple areas around our base, if you are interested in one of our delivery runs please check the Ordering and Delivery page to see if you are on one of our runs or contacts from the Contact Us page. No Frozen products can be shipped out by post, only by local delivery. For updates in our shop visit our Facebook Page.

If you would like to know more about us as a company, visit our page Our Story