Regular price
Sale price
£2.25
Unit price
per
Sale
Sold out
Description

Introducing our Chicken in Chips, a delectable treat that will leave your canine companion begging for more. Made from only the finest quality chicken, these chips are a wholesome and natural snack option for your furry friend.

We take pride in offering treats that are free from any artificial additives or preservatives. Our Chicken in Chips are crafted with care, containing no artificial colorings, fragrances, or flavors. This means your pet gets to enjoy the pure, authentic taste of chicken without any unnecessary additives.

These gluten-free treats are not only delicious but also cater to dogs with dietary sensitivities. Ideal for training sessions, these chips are a fantastic incentive for good behavior. Their convenient size and irresistible flavor make them a practical choice for rewarding your pet during training or simply as an occasional treat.

We believe in providing only the best for your pet, which is why our Chicken in Chips are carefully sourced and prepared to meet the highest quality standards. Your pet deserves a treat that is not only delicious but also nutritious and beneficial to their well-being.

Treat your furry friend to the pure and savory delight of our Chicken in Chips. With no artificial additives or preservatives, you can feel confident knowing you're offering a treat that aligns with your pet's natural dietary needs. Invest in their health and happiness with this exceptional snack option.
Ingredients

In every 100g pack of Chicken in Chips, you'll find 100% chicken and nothing else. This straightforward ingredient list ensures that your pet receives a high-protein treat that aligns with their natural dietary needs.
Typical Analysis

With a protein content of 35.8%, these chips contribute to your pet's muscle development, energy levels, and overall vitality.

Chicken in Chips boast a moderate fat content of 50.3%, providing a source of essential energy to keep your pet active and engaged. This balanced fat-to-protein ratio supports a healthy, well-rounded diet, making these chips suitable for dogs of various activity levels.

With an ash content of 1.5%, these chips maintain a low mineral content, promoting overall well-being. This ensures that your pet receives a treat that contributes positively to their health without unnecessary additives or fillers.
Share
View full details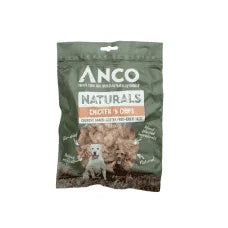 Shipping
We offer Local Delivery to multiple areas around our base, if you are interested in one of our delivery runs please check the Ordering and Delivery page to see if you are on one of our runs or contacts from the Contact Us page. No Frozen products can be shipped out by post, only by local delivery. For updates in our shop visit our Facebook Page.

If you would like to know more about us as a company, visit our page Our Story