The Dogs Butcher
Regular price
Sale price
£5.20
Unit price
per
Sale
Sold out
Description

Our Chicken Hearts are a nutrient-rich delicacy that offers a range of health benefits for your beloved pet. This 1kg pack contains high-quality, carefully sourced chicken hearts, providing a wholesome and natural treat option.

Feeding your pet Chicken Hearts offers a convenient way to incorporate a variety of essential nutrients into their diet. Whether served as an occasional treat or included in their regular meal plan, these chicken hearts provide a delectable source of nourishment that supports your pet's overall health and well-being.

Treat your pet to the flavorful and nutritious goodness of our Chicken Hearts. With high-quality protein, balanced fat levels, and a moisture-rich composition, they offer a range of essential nutrients to support your pet's vitality and happiness. Invest in their well-being with this exceptional treat option.
Ingredients

Our Chicken Hearts undergo stringent quality checks to ensure they meet the highest standards of excellence. They are free from artificial additives, preservatives, and unnecessary fillers, guaranteeing a natural and wholesome treat option for your pet.
Typical Analysis

Rich in essential nutrients, these chicken hearts are a superb source of high-quality protein, constituting 14.5% of their composition. Protein is a crucial component in your pet's diet, supporting various bodily functions such as muscle development, immune system health, and enzyme production.

With a fat content of 10%, these chicken hearts offer a balanced nutritional profile, providing a source of energy while keeping fat levels at an appropriate level for overall health. This makes them suitable for a well-rounded diet for pets of various activity levels.

The water content in these chicken hearts is 73.8%, ensuring they remain juicy and flavorful, making them an enticing treat option for your furry friend. Their moisture-rich composition contributes to their overall appeal and aids in digestion.

Additionally, these chicken hearts have an ash content of 1% and a minimal fiber content of 0.1%. These values are within healthy ranges, indicating a well-balanced treat option that can be incorporated into your pet's diet without causing any adverse effects.
Share
View full details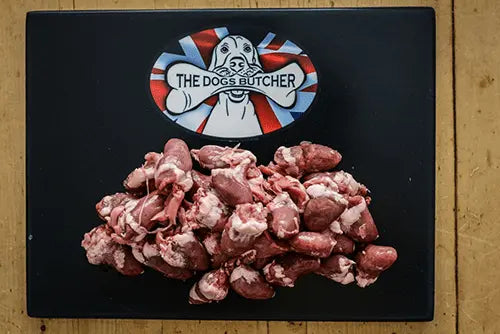 Shipping
We offer Local Delivery to multiple areas around our base, if you are interested in one of our delivery runs please check the Ordering and Delivery page to see if you are on one of our runs or contacts from the Contact Us page. No Frozen products can be shipped out by post, only by local delivery. For updates in our shop visit our Facebook Page.

If you would like to know more about us as a company, visit our page Our Story