Proflax
Regular price
Sale price
£9.45
Unit price
per
Sale
Sold out
Description

Introducing Proflax Calm and Collected - a specially crafted blend designed to help your beloved canine companion maintain a state of calm and relaxation. Trusted and recommended by behaviorists, this remarkable formulation aids in reducing anxiety and enhancing focus and concentration, particularly during training sessions or competitions.

This potent blend harnesses the power of eight high-strength active herbs, including Skullcap, Withania, Chamomile, Astralagus, Gotu Kola, Ginger, Turmeric, and Liquorice. These natural calming herbs work synergistically to promote a sense of tranquility without inducing drowsiness. Each herb serves a specific purpose, from relaxation and detoxification to supporting heart health and aiding digestion.

Choose from our convenient 250ml, 500ml, or 1-liter options to suit your pet's needs. Elevate your pet's well-being with this natural superfood blend and enjoy the peace of mind that comes with knowing you're providing them with the very best. Watch as they thrive and embrace a life of calm, balance, and vitality.
Ingredients

The foundation of this exceptional superfood is a combination of 75% pure cold-pressed culinary-grade flaxseed oil and a 25% herbal tincture blend. This carefully balanced composition ensures optimal absorption and effectiveness for your furry companion.

Key Active Herbs:

Skullcap (lateriflora): Known for its relaxing and calming properties, this herb also acts as a natural antioxidant and supports a healthy heart. It aids in detoxification, contributing to overall well-being.

Withania: An adaptogenic herb, Withania supports flexibility and mobility while promoting a state of calmness. It contains essential nutrients like sodium and iron, crucial for your pet's health.

Chamomile: Renowned for its calming and soothing effects, Chamomile also aids in digestion. It's a rich source of essential minerals like zinc, iron, and selenium, contributing to a balanced diet.

Astralagus: Another adaptogenic herb in the blend, Astralagus, bolsters energy levels, stamina, and metabolic health. It contains valuable flavonoids and polysaccharides, vital for your pet's vitality.

Turmeric: A treasure trove of curcumin, Turmeric boasts powerful antioxidant properties. Packed with essential nutrients such as vitamin C, calcium, iron, and more, it aids in digestion, supports cardiovascular function, and plays a cleansing role.

Gotu Kola: An adaptogen with circulation-boosting and cleansing properties, Gotu Kola supports the nervous system, veins, and blood vessels. It's a natural source of vital minerals and vitamins, including calcium, manganese, potassium, selenium, zinc, and vitamins C and B.

Ginger: Known for its positive impact on the circulatory system and joint health, Ginger also aids in maintaining bone density. It's a source of essential vitamins and minerals like B5, B6, potassium, and manganese.

Liquorice Root: As an adaptogenic herb, Liquorice root supports the immune, respiratory, and digestive systems. It enhances the overall flavor profile of the formula, making it palatable for your pet.

Administration

For visible health benefits, administer the superfood once daily. You can expect to see positive results within 7-10 days of regular use. Remember to shake well before each use to ensure the oil and herbal complex are thoroughly mixed.
Share
View full details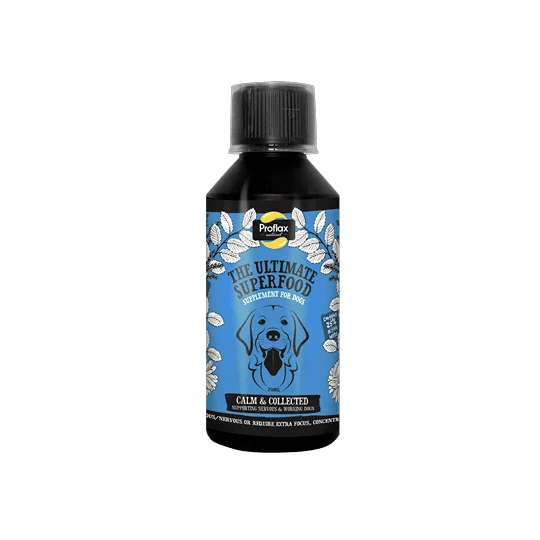 Shipping
We offer Local Delivery to multiple areas around our base, if you are interested in one of our delivery runs please check the Ordering and Delivery page to see if you are on one of our runs or contacts from the Contact Us page. No Frozen products can be shipped out by post, only by local delivery. For updates in our shop visit our Facebook Page.

If you would like to know more about us as a company, visit our page Our Story