Regular price
Sale price
£2.99
Unit price
per
Sale
Sold out
Description

Introducing the Butterflies Wand – a purrfect playtime companion for your feline friend, and an enchanting entertainment option for playful puppies and other small pets! This delightful wand toy is designed to provide hours of interactive fun and exercise for your furry companion.

Key Features:

Interactive Play: The Butterflies Wand is designed to engage your pet's natural instincts for hunting and play. The dangling toy at the end of the wand mimics the movements of prey, captivating your pet's attention and encouraging active play.

Versatile Fun: Suitable for cats, puppies, and other small pets, this wand toy is a versatile addition to your pet's playtime routine. Whether your furry friend loves to pounce, bat, or chase, this toy provides endless opportunities for entertainment.

Quality Construction: Crafted with durable materials, the Butterflies Wand is designed to withstand vigorous play sessions. The wand is sturdy and easy to handle, ensuring a comfortable grip for interactive play.

Bonding Time: Using the wand toy to play with your pet can be a wonderful bonding experience. It allows you to actively participate in your pet's playtime, creating a stronger connection between you and your beloved companion.

Safe and Engaging: The Butterflies Wand is designed with your pet's safety in mind. The dangling toy is securely attached to the wand, preventing any potential hazards. It's a safe and enjoyable way to keep your pet mentally and physically stimulated.

Elevate playtime for your pet with the Butterflies Wand. Whether your furry friend is a curious kitten, an energetic puppy, or a playful small pet, this interactive toy is sure to provide endless entertainment. Watch as they pounce, leap, and chase after the dangling toy, engaging their natural instincts in a fun and engaging way.

Invest in the Butterflies Wand and treat your pet to hours of delightful playtime. Provide mental stimulation, encourage physical activity, and strengthen the bond between you and your beloved companion. Order yours today and let the playful adventures begin!

Made From


Wand Material: Wood
Toy Material: Feathers

Share
View full details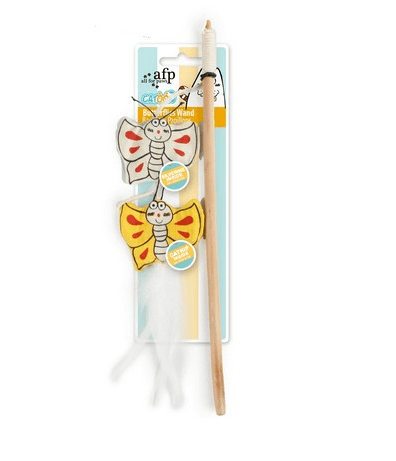 Shipping
We offer Local Delivery to multiple areas around our base, if you are interested in one of our delivery runs please check the Ordering and Delivery page to see if you are on one of our runs or contacts from the Contact Us page. No Frozen products can be shipped out by post, only by local delivery. For updates in our shop visit our Facebook Page.

If you would like to know more about us as a company, visit our page Our Story