Regular price
Sale price
£6.35
Unit price
per
Sale
Sold out
Description


Introducing JR's Braided Lamb Treats, a delectable and nutritious option for your furry companion. Crafted with care, these treats are not only delicious but also packed with essential benefits that cater to your dog's well-being.

Made from 100% pure lamb meat, these treats are a perfect choice for dogs with sensitivities to beef or pork, ensuring they can enjoy a flavorful snack without any adverse reactions. Hypoallergenic in nature, JR's Braided Lamb Treats provide a safe and wholesome option for your beloved pet.

Our treats are not just tasty; they're also designed with your dog's health in mind. They are grain and gluten-free, eliminating common problematic ingredients that can lead to gastrointestinal upset, skin issues, and even allergies. By sticking to a single-source protein from meat, we align with nature's intended diet for our canine friends.

Here's what sets JR's Braided Lamb Treats apart:

100% Hypoallergenic: Ideal for dogs with sensitivities to beef or pork, these treats provide a safe and enjoyable snacking option.

High in Protein: Packed with raw protein, these treats support your dog's muscle development and overall vitality.

Gluten-Free: We understand the potential issues associated with gluten for dogs. Our treats are free from this problematic ingredient, ensuring a happy and healthy digestive system.

Low in Fat: A low-fat option, these treats allow your dog to indulge without compromising their waistline or overall health.

Single-Source Protein: With no additives or preservatives, JR's Braided Lamb Treats offer pure, unadulterated goodness in every bite.

Highly Digestible: These treats are not only delicious but also easy on your dog's digestive system, ensuring they can savor the flavor without any discomfort.

Available in both standard 100g packs and 30cm 4-packs, you have the flexibility to choose the perfect size for your furry friend.

Elevate your dog's snacking experience with JR's Braided Lamb Treats - a delicious, hypoallergenic, and health-conscious option that shows your pet just how much you care. Provide them with a treat that's not only scrumptious but also tailored to their specific dietary needs.
Typical Analysis


Raw Protein: 85.5%
Raw Fat: 5.3%
Moisture: 6.8%
Raw Ash: 2.1%

Share
View full details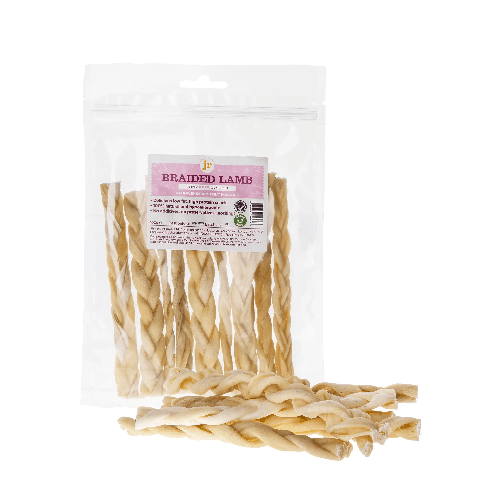 Shipping
We offer Local Delivery to multiple areas around our base, if you are interested in one of our delivery runs please check the Ordering and Delivery page to see if you are on one of our runs or contacts from the Contact Us page. No Frozen products can be shipped out by post, only by local delivery. For updates in our shop visit our Facebook Page.

If you would like to know more about us as a company, visit our page Our Story