Regular price
Sale price
£5.59
Unit price
per
Sale
Sold out
Description

Introducing the Boomer Ball, the epitome of durability and the ultimate tough toy for your furry friend. Engineered to withstand even the most tenacious play, this virtually indestructible ball is specifically designed for dogs who are passionate about their playtime and tend to make quick work of conventional toys.

Unlike typical toys, the Boomer Ball is not meant to be carried by your dog. Instead, it's crafted to engage them in active play, providing an outlet for their boundless energy and playfulness. This means it's perfect for those ball-obsessed pups who live for a game of fetch.

When selecting the size of your Boomer Ball, it's crucial to choose one that exceeds your dog's maximum jaw gape. This ensures a safe and enjoyable playtime experience. The available sizes range from 4 inches to 10 inches, catering to a variety of breeds and play preferences. Whether you have a small and spunky terrier or a larger, more robust companion, there's a Boomer Ball size that's just right for them.

Choose between two vibrant colors, Red or Blue, to suit your dog's personality and preferences. The Boomer Ball is built to withstand vigorous play and offers a long-lasting source of entertainment for your furry friend.

While specific material details are not provided, rest assured that the Boomer Ball is crafted with quality and durability in mind. It's designed to withstand rough play and provide your dog with hours of enjoyment.

Elevate your dog's playtime with the Boomer Ball - a toy that's built to endure even the most enthusiastic play sessions. Watch as your pup engages with this virtually indestructible ball, reveling in a playtime experience tailored to their high-energy nature. Provide them with a toy that matches their zest for play, and enjoy the sight of a happy and engaged pup.

Choose the Boomer Ball for your ball-obsessed, toy-destroying canine companion, and introduce them to a playtime experience that's tough enough to keep up with them.
Made From

Size 4 inch, 6 inch, 8 inch, 10 inch.
Share
View full details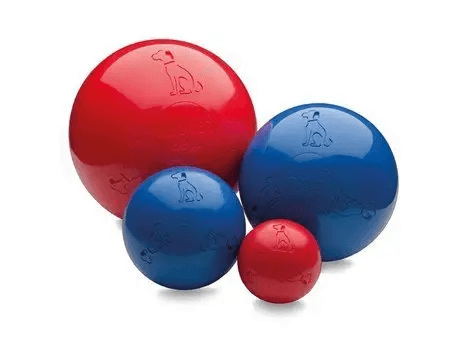 Shipping
We offer Local Delivery to multiple areas around our base, if you are interested in one of our delivery runs please check the Ordering and Delivery page to see if you are on one of our runs or contacts from the Contact Us page. No Frozen products can be shipped out by post, only by local delivery. For updates in our shop visit our Facebook Page.

If you would like to know more about us as a company, visit our page Our Story