Scottish Canine
Regular price
Sale price
£7.95
Unit price
per
Sale
Sold out
Description

Introducing our exceptional Natural Bone Broth, a nourishing elixir meticulously crafted to cater to the unique dietary needs of your beloved pets. Carefully derived from select bones and connective tissue, this liquid gel is a powerhouse of natural proteins and minerals not commonly found in their regular diet.

These essential proteins play a pivotal role in addressing various conditions such as Arthritis, Food Allergies, and Gut Health, offering a holistic approach to your pet's well-being. By aiding in the resolution of food intolerances, Bone Broth supports improved joint health and facilitates the regeneration of vital cartilage, providing much-needed relief from arthritis, joint pain, and dysplasia. Furthermore, it bolsters the immune system, acting as a restorative tonic for sick or convalescing pets, fortifying the bone structure of growing pups and kittens, and acting as a proactive measure against potential issues down the line.

Tailored to meet the diverse needs of pets in every life stage, from sprightly young ones to hardworking athletic companions, as well as those on the road to recovery, our Natural Bone Broth stands as a beacon of support for them all.

Suitable for both our feline and canine friends, our Bone Broth comes in two delectable options: the robust Beef or the delicate Lamb. Priced at just £7.95 for a generous 500ml portion, it's a small investment in your pet's long-term health and well-being.

Rest assured, our commitment to quality is unwavering. At Scottish Canine, we boast a Defra approval, and hold registrations with both the Scottish Government and the Animal Plant & Health Agency UK (95/814/8001/ABP/PFT). Our product undergoes rigorous and regular testing, ensuring purity and consistent nutrient levels you can trust.

Elevate your pet's diet with our Natural Bone Broth - a testament to our unwavering commitment to their health and happiness. Choose a path of vitality and well-being that they'll thank you for every day.
Administration

To make feeding a breeze, simply defrost and, if needed, decant for convenient use. When stored in a refrigerated environment, the broth maintains its potency for up to 14 days after defrosting, giving you ample time to provide your pet with the nourishment they deserve.
Share
View full details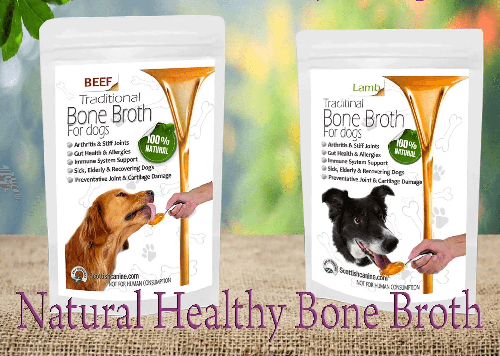 Shipping
We offer Local Delivery to multiple areas around our base, if you are interested in one of our delivery runs please check the Ordering and Delivery page to see if you are on one of our runs or contacts from the Contact Us page. No Frozen products can be shipped out by post, only by local delivery. For updates in our shop visit our Facebook Page.

If you would like to know more about us as a company, visit our page Our Story