Proflax
Regular price
Sale price
£9.45
Unit price
per
Sale
Sold out
Description

Elevate your dog's well-being with Proflax Bone and Joint supplement, a powerful blend crafted to promote overall health and vitality. At the heart of this formulation is a base of high-quality Cold Pressed Flaxseed Oil, delivering a rich array of plant-based Omega-3 fatty acids. Not only is it a highly palatable addition to your dog's diet, but it also offers a comprehensive range of benefits.

Specifically designed to provide immune support, anti-inflammatory properties, and cardiovascular benefits, the Bone & Joint blend goes the extra mile in supporting your dog's holistic health. It doesn't stop there—it also contributes to maintaining healthy skin, a glossy coat, and the optimal functioning of joints.
Ingredients



75% pure cold pressed culinary grade flaxseed oil.

25% herbal tincture blend consisting of:

Withania: An adaptogenic herb that enhances flexibility and mobility, promotes relaxation, and acts as a potent antioxidant. It also contains essential sodium and iron for overall health.

Boswellia: Known for its support of healthy bones and joints, it aids in digestion and respiration. As a powerful antioxidant, it complements the effects of Turmeric.

Ginger: This ingredient supports bone density and circulation. It's a rich source of vitamins B5 and B6, along with essential minerals like potassium and manganese.

Turmeric: With its active compound curcumin, Turmeric aids in maintaining bone density and offers a host of essential nutrients including vitamin C, calcium, iron, niacin, potassium, and zinc. It's also a potent antioxidant that supports digestion and cardiovascular health.

Dandelion: Known for its natural cleansing properties, dandelion benefits bones, kidneys, and the gallbladder. It's a nutrient powerhouse, featuring a rich array of β-carotene, essential for vitamin A production, along with fiber, potassium, iron, calcium, magnesium, phosphorous, and a range of vitamins.

Gotu Kola: This adaptogenic herb promotes circulation and collagen production, supports the nervous system, and maintains healthy veins and blood vessels. It's packed with essential minerals and vitamins like calcium, manganese, potassium, selenium, vitamin C, and various B vitamins.

Liquorice root: An adaptogenic herb that boosts the immune system, reduces stress, aids respiration, and supports digestion. It also imparts a delicious taste to the entire formula.

Administration

Shake the bottle well and simply add to your dog's raw, wet, or dry food. Adjust the serving size according to your dog's specific needs, ensuring they receive the full spectrum of benefits this powerful supplement offers. Elevate your dog's well-being with Proflax Bone and Joint, and witness the positive impact on their overall health and vitality.
Share
View full details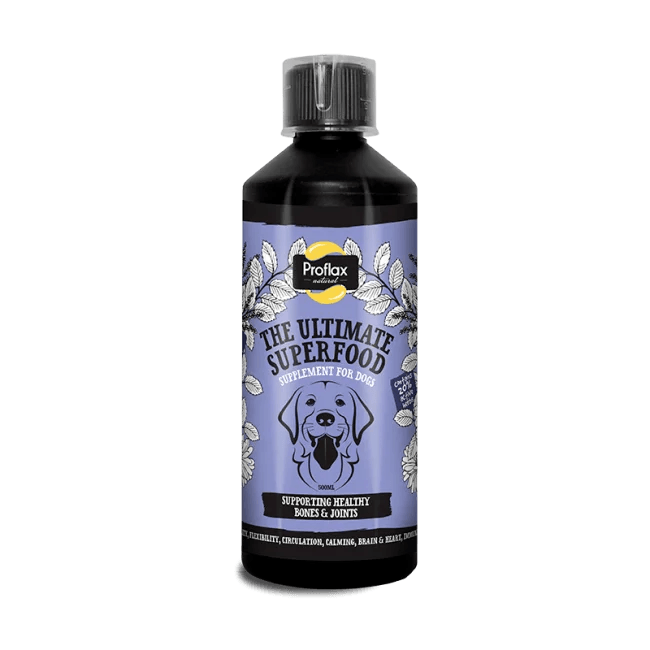 Shipping
We offer Local Delivery to multiple areas around our base, if you are interested in one of our delivery runs please check the Ordering and Delivery page to see if you are on one of our runs or contacts from the Contact Us page. No Frozen products can be shipped out by post, only by local delivery. For updates in our shop visit our Facebook Page.

If you would like to know more about us as a company, visit our page Our Story