Regular price
Sale price
£6.99
Unit price
per
Sale
Sold out
Description

Treat your canine companion to the ultimate delight with our 100% meat strips – a sumptuous, protein-packed reward that's sure to get tails wagging! Crafted from a single, high-quality protein source, these thick, hearty strips offer a substantial treat experience for your furry friend.

Choose from an array of 14 exquisite proteins, each delivering a unique flavor and nutritional profile. Whether it's the bold richness of Beef, the savory taste of Chicken, or the wild game allure of Venison, there's a variety to suit every palate.

These meaty strips are available in two convenient sizes – 200g and 500g – ensuring you have the perfect portion for any occasion. Whether you're reinforcing good behavior during training sessions or simply pampering your pet, these treats are a surefire hit.

We understand the importance of providing wholesome, high-quality nutrition to your beloved pet. That's why our meat strips contain no fillers, additives, or artificial ingredients – just pure, unadulterated meat goodness.

For the health-conscious pet owner, our typical analysis provides the reassurance you seek. With high protein content and balanced fat levels, these treats make for a satisfying addition to your dog's diet.

Elevate treat time with these delectable 100% meat strips. Your furry companion will relish the authentic taste of pure, unprocessed meat, and you'll have the peace of mind knowing you're offering them a treat that's as wholesome as it is delicious. So go ahead, let your pup savor the natural flavors they love!
Ingredients

Beef: 100% Beef
Boar: 100% Pork
Chicken: 100% Chicken
Deer/Venison: 100% Deer
Goose: 100% Goose
Lamb: 100% Lamb
Rabbit: 100% Rabbit
Turkey: 100% Turkey
Wild Boar: 100% Wild Boar
Typical Analysis

Beef: Moisture 9.1%, Fat 21.9%, Fibre 0.8%, Ash 11.9%
Boar:
Chicken: Moisture 8.7%, Fat 28.7%, Fibre 0.6%, Ash 7.2%
Deer/Venison: Moisture 7.0%, Fat 20.4%, Fibre 0.8%, Ash 16.1%
Goose: Moisture 10.0%, Fat 15%, Fibre 0.5%, Ash 15%, Protein 55.0%
Lamb: Moisture 8.5%, Fat 22.7%, Fibre 0.6%, Ash 18.3%
Rabbit: Moisture 9.6%, Fat 26.1%, Fibre 2.0%, Ash 10.3%
Turkey: Moisture 8.0%, Fat 25.5%, Fibre 1.1%, Ash 11.5%
Wild Boar: Moisture 7.6%, Fat 27.1%, Fibre 0.9%, Ash 11.5
Share
View full details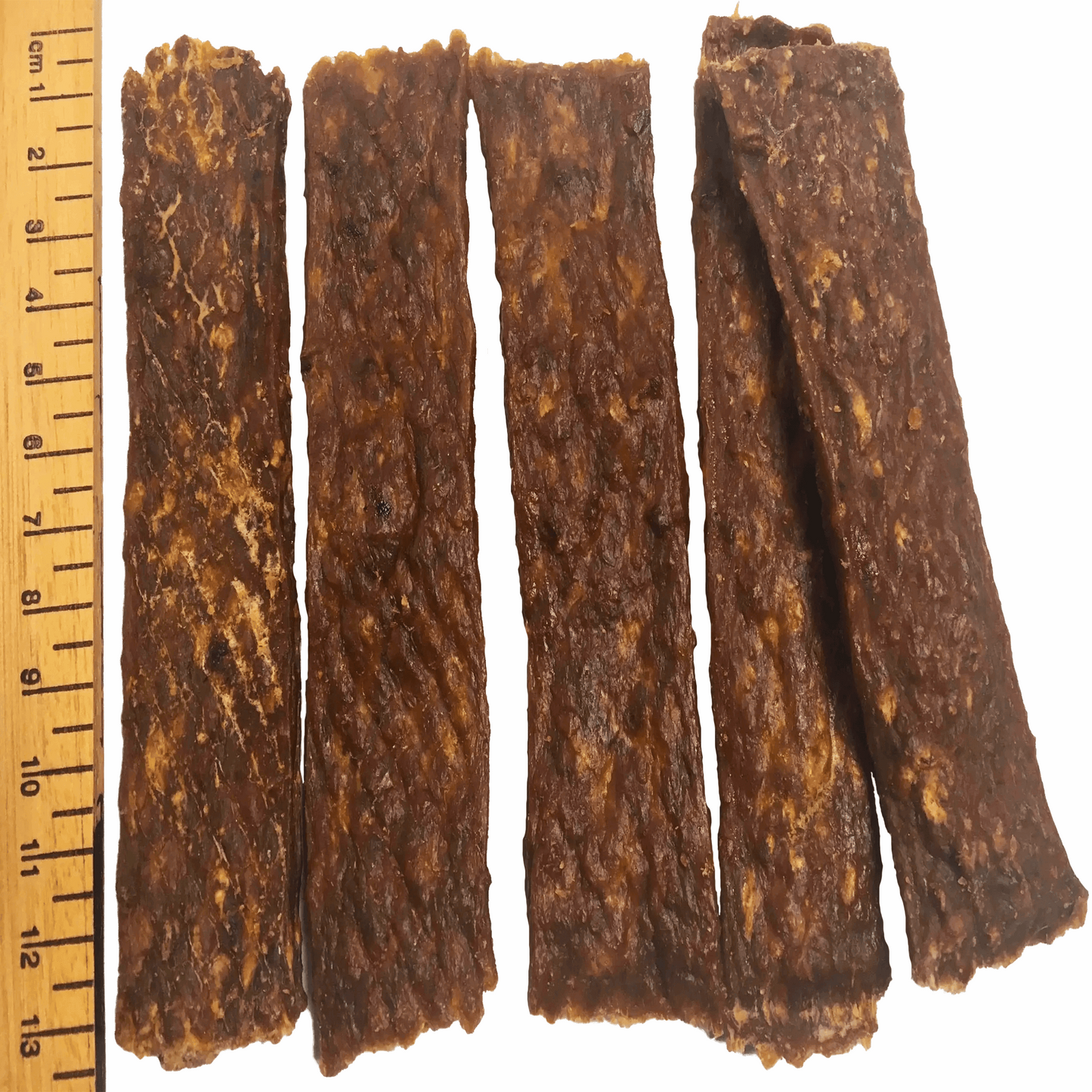 Shipping
We offer Local Delivery to multiple areas around our base, if you are interested in one of our delivery runs please check the Ordering and Delivery page to see if you are on one of our runs or contacts from the Contact Us page. No Frozen products can be shipped out by post, only by local delivery. For updates in our shop visit our Facebook Page.

If you would like to know more about us as a company, visit our page Our Story