Regular price
Sale price
£19.40
Unit price
per
Sale
Sold out
Share
For dogs and cats
Suitable to supplement a raw meat diet containing bones, for both dogs and cats.
Contains all the required vitamins and minerals for dogs and cats, according to European guidelines.
Why this supplement?
With a raw meat diet where enough meaty bones are fed (around 40-50%) supplementation of calcium is not needed. This also applies to feeding minced meat mixtures which contains bones.
This supplement contains no calcium but does contains other vitamins and minerals that dogs and cats need.
This supplement is an ideal addition to:
A self-composed raw meat diet that contains muscle meat, meaty bones and possibly organ meat, but getting enough variation is not possible.
Complementary minced meat mixtures (which contain bones), but enough variation is not possible.
A diet where for any reason there are doubts about the completeness.
500g tub with doseage 4g scoop
Ingredients
N/A
Administration
Daily easy to use dosages, by using the included measuring spoon.
View full details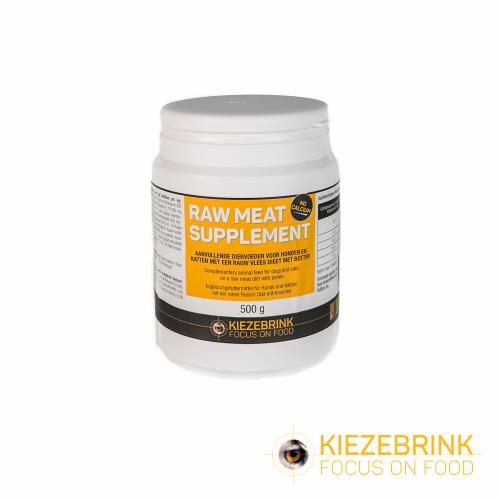 Shipping
We offer Local Delivery to multiple areas around our base, if you are interested in one of our delivery runs please check the Ordering and Delivery page to see if you are on one of our runs or contacts from the Contact Us page. No Frozen products can be shipped out by post, only by local delivery. For updates in our shop visit our Facebook Page.

If you would like to know more about us as a company, visit our page Our Story