Regular price
Sale price
£1.25
Unit price
per
Sale
Sold out
Share
Experience the Natural Goodness of Anco Naturals Goat Tubes
Looking for a wholesome and natural treat for your furry friend? Look no further than Anco Naturals Goat Tubes. These delicious chews are a pure and nutritious delight for dogs, providing a range of health benefits in every bite.
Pure and Simple Ingredients:
Anco Naturals Goat Tubes are made with one simple and wholesome ingredient – 100% Goat. No artificial additives, colorings, fragrances, flavors, or preservatives are added. This means you can trust that your pup is getting a treat that's truly natural and pure.
Gluten-Free Goodness:
Our Goat Tubes are a perfect choice for dogs with dietary sensitivities. They are completely gluten-free, making them suitable for dogs with grain or gluten allergies.
Naturally Better, Naturally Loved:
Dogs have an innate love for the authentic flavors and textures that nature provides. Anco Naturals Goat Tubes tap into that natural instinct, providing a treat that dogs find irresistibly tasty. It's a wholesome option that both you and your furry friend can feel good about.
Healthy and Chewy:
Chewing is a natural behavior for dogs and is essential for their dental health. Anco Naturals Goat Tubes offer a satisfying chew that helps to clean your dog's teeth and gums, reducing the risk of dental issues down the line.
A Treat You Can Trust:
At Anco Naturals, we believe in providing only the best for your furry companion. Our Goat Tubes are sourced from trusted suppliers and prepared with the utmost care, ensuring a treat that you can confidently offer to your pup.
Experience the natural goodness and quality of Anco Naturals Goat Tubes. Treat your dog to a delicious and nutritious snack that aligns with their natural instincts and dietary needs.
Ingredients
100% Goat
Typical Analysis
Protein 57%, Fat 39%, Ash 3%
View full details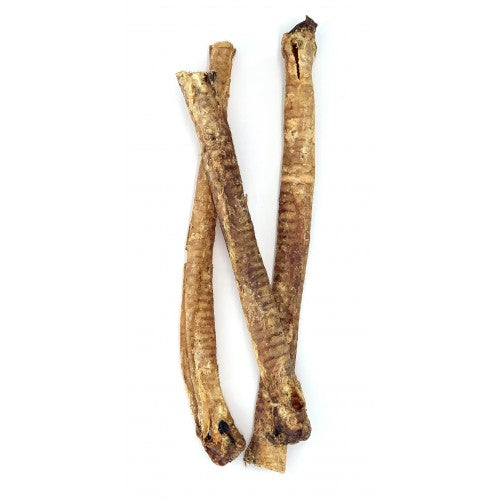 Shipping
We offer Local Delivery to multiple areas around our base, if you are interested in one of our delivery runs please check the Ordering and Delivery page to see if you are on one of our runs or contacts from the Contact Us page. No Frozen products can be shipped out by post, only by local delivery. For updates in our shop visit our Facebook Page.

If you would like to know more about us as a company, visit our page Our Story