Mixed Supplier
Regular price
Sale price
£4.65
Unit price
per
Sale
Sold out
Share
Introducing our Chewy Twirls, made from 100% Natural WhiteFish Skins. These delectable treats are carefully air-dried to preserve the vital proteins and enzymes, creating a wholesome, nutritious snack that's not only delicious but also excellent for maintaining your dog's dental health.
Our Fish Twirls are rich in essential omega oils, which play a crucial role in promoting healthy, shiny coats and easing aching joints. The natural goodness of these treats provides a myriad of health benefits that go beyond just being a tasty snack.
We understand that every dog is unique, and that's why our Fish Twirls are hypoallergenic and grain-free, making them suitable even for dogs with sensitive stomachs. You can treat your furry friend without worry, knowing that you're offering them a snack that aligns with their dietary needs.
The Short Twirls measure approximately 10 - 13 cm and come in convenient 200g bags, making them an ideal option for a quick and satisfying treat.
For larger dogs or those who prefer a heartier chew, our Regular Twirls are approximately 15 - 30 cm in length (max size 19cm) and can be purchased by weight, starting from 100g. These provide a longer-lasting chewing experience, keeping your dog engaged and satisfied.
It's important to note that, as a natural product, the color and size of the Fish Twirls may vary slightly. This variation is a testament to the authenticity and quality of the treat.
Treat your furry companion to the goodness of our Fish Twirls. Not only are they a flavorful delight, but they also contribute to your dog's overall well-being. Watch as they enjoy the satisfying chew while benefiting from the omega oils and dental health support these treats provide. With no artificial additives or preservatives, you can trust that you're providing the very best for your cherished pet.
View full details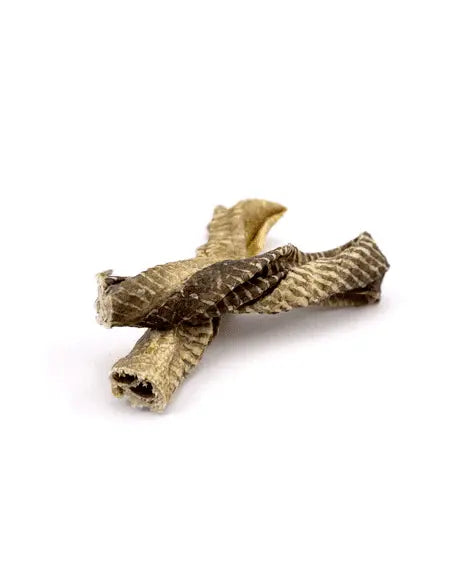 Shipping
We offer Local Delivery to multiple areas around our base, if you are interested in one of our delivery runs please check the Ordering and Delivery page to see if you are on one of our runs or contacts from the Contact Us page. No Frozen products can be shipped out by post, only by local delivery. For updates in our shop visit our Facebook Page.

If you would like to know more about us as a company, visit our page Our Story