SanaDog
Regular price
Sale price
£5.99
Unit price
per
Sale
Sold out
Share
Our vital chewing sticks made from natural cowhide and delicious meat are the perfect natural dental care snack. They are very hard, difficult to break and have a groove on the side. The formation of tartar is significantly reduced by abrasion when chewing on the groove and by the increased flow of saliva.

Dog dental hygiene is important. With the SANADOG dental care snacks you can support them in a healthy and natural way. But why are they called Vital chewing sticks? Because you not only support natural dental care but also have a functional effect of the healthy ingredients.

The natural cowhide contains high-quality collagen. As a structural protein, collagen ensures the tensile strength of connective tissue and can be found wherever elasticity and strength are important: in the skin, in ligaments and tendons, in cartilage, in bones, in skeletal muscles, in blood vessels and even in the teeth.

Our vital chewing sticks are made in our own factory without additives such as corn, wheat, soy, colorings, preservatives, meat flour or other fillers and are gently air-dried. Our air drying technology is a modern interpretation of centuries-old meat preservation techniques.

The carefully selected meat and natural cowhide are sourced locally and are 100% traceable. Due to our gentle manufacturing process, the nutrients contained in the raw materials are preserved and help your dog to stay healthy and vital for a long time.
150g
View full details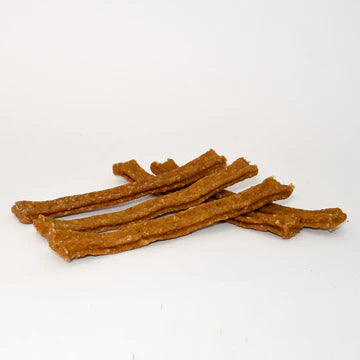 Sana chew sticks
Natural, healthy treats. My dog is very fussy and loves the Turkey and the Venison.
They're her bedtime treat and help keep her teeth clean. Very reasonable price too! Great!
Thankyou for your Great review Pauline, these are a Very popular product!
Shipping
We offer Local Delivery to multiple areas around our base, if you are interested in one of our delivery runs please check the Ordering and Delivery page to see if you are on one of our runs or contacts from the Contact Us page. No Frozen products can be shipped out by post, only by local delivery. For updates in our shop visit our Facebook Page.

If you would like to know more about us as a company, visit our page Our Story