Regular price
Sale price
£15.75
Unit price
per
Sale
Sold out
Share
Anco - Adding essential nutrients and irresistible flavour to your dog's diet, Anco Bone Broth is made from human grade free range chicken bones which are slow-simmered to extract highly bioavailable nutrients, including peptides, minerals, collagen, glucosamine and chrondroitin, which are essential for healthy joints, bones, gut and digestive system.
Naturally high in protein, low in fat and with no artificial additives, Anco Bone Broth powder is highly digestible and can be sprinkled dry as a food topper or made up with water into a delicious broth/gravy to increase palatability and entice even reluctant eaters to ingest vital nutrients.
This natural product is simply dehydrated with minimal processing and is hypoallergenic.
The convenient, eco-friendly powder takes up less space, has less carbon footprint and lasts longer than liquid bone broth, minimising wastage.
No Additives or Preservatives
No Added Salt or Sugar
Free Range Chicken
Grain Free and Gluten Free
No GMO, Dairy or Soya
No Hormones, Steroids or Antibiotics
120g packs which each make up 4 Litres
Boil and Broth -

This bone broth is dehydrated, really convenient and useful for those with limited freezer space. This bone broth powder for dogs has been dehydrated for ease of use and travel. Dehydrating the bone broth removes all the water content and leaves only the protein left. Because we remove 95% of the water content, there is only 5% left of bone broth protein.

35g pot will restore back to 750ml of bone broth, which is equivalent to buying one and a half frozen pouches.
120g of bone broth powder (approx.30-40 servings). This can restore back to 3 – 4 litres of broth.

Rehydrate the bone broth back to its original state
Using your dehydrated bone broth is easy. All you need to do is follow the instructions by adding a scoop with 100ml of water, then stir well to remove all the clumps.

The bone broth powder for dogs will arrive in a screw-top container with a scoop. Use the scoop to measure out the broth for each serving.

How to use: Put 1 level scoop (supplied) of dehydrated bone broth powder into a small amount of cold water, then add 100-150ml hot water and stir thoroughly. Serve as a drink or mix with the meal, or mix a scoop of dry powder into the meal, allow to cool if giving as a drink.
Gluten, grain and sugar free.
Ingredients
Anco
100% Chicken
100% Beef
100% Fish
100% Pork

Boil and Broth
Beef: Water, beef bones (70%), water
Lamb: Lamb bones (70%), water
Venison: Venison bones (70%), water

Typical Analysis
Anco
Protein 93%, Fat <0.5%, Ash 8%, Collagen 25g
Boil and Broth
Nutrition Facts (Bone Broth Powder for Dogs)
Per scoop
Protein: 2.5g, Crude Fats: < 0.5g, Crude Fibre: 1g, Crude Ash: 0g
View full details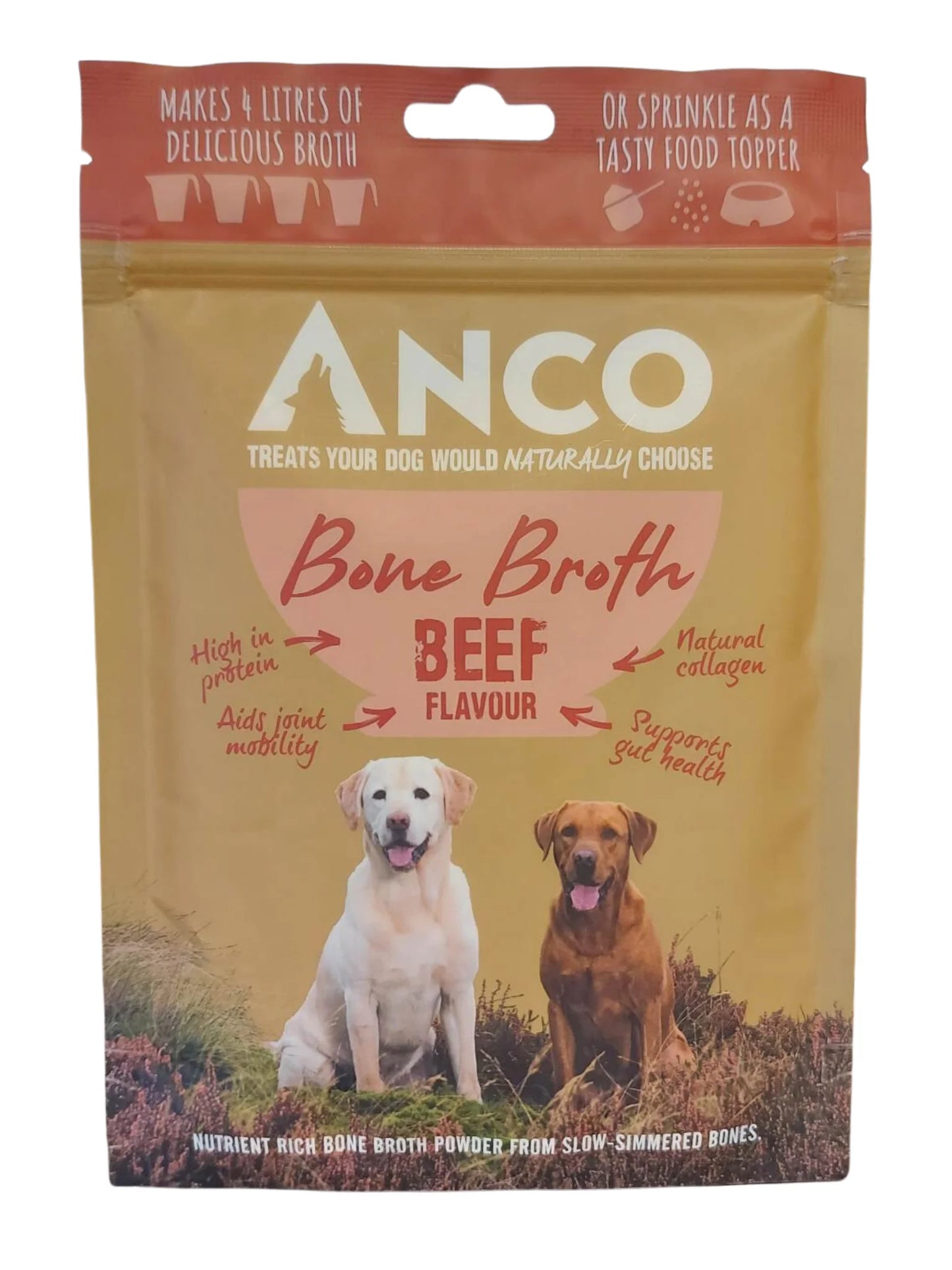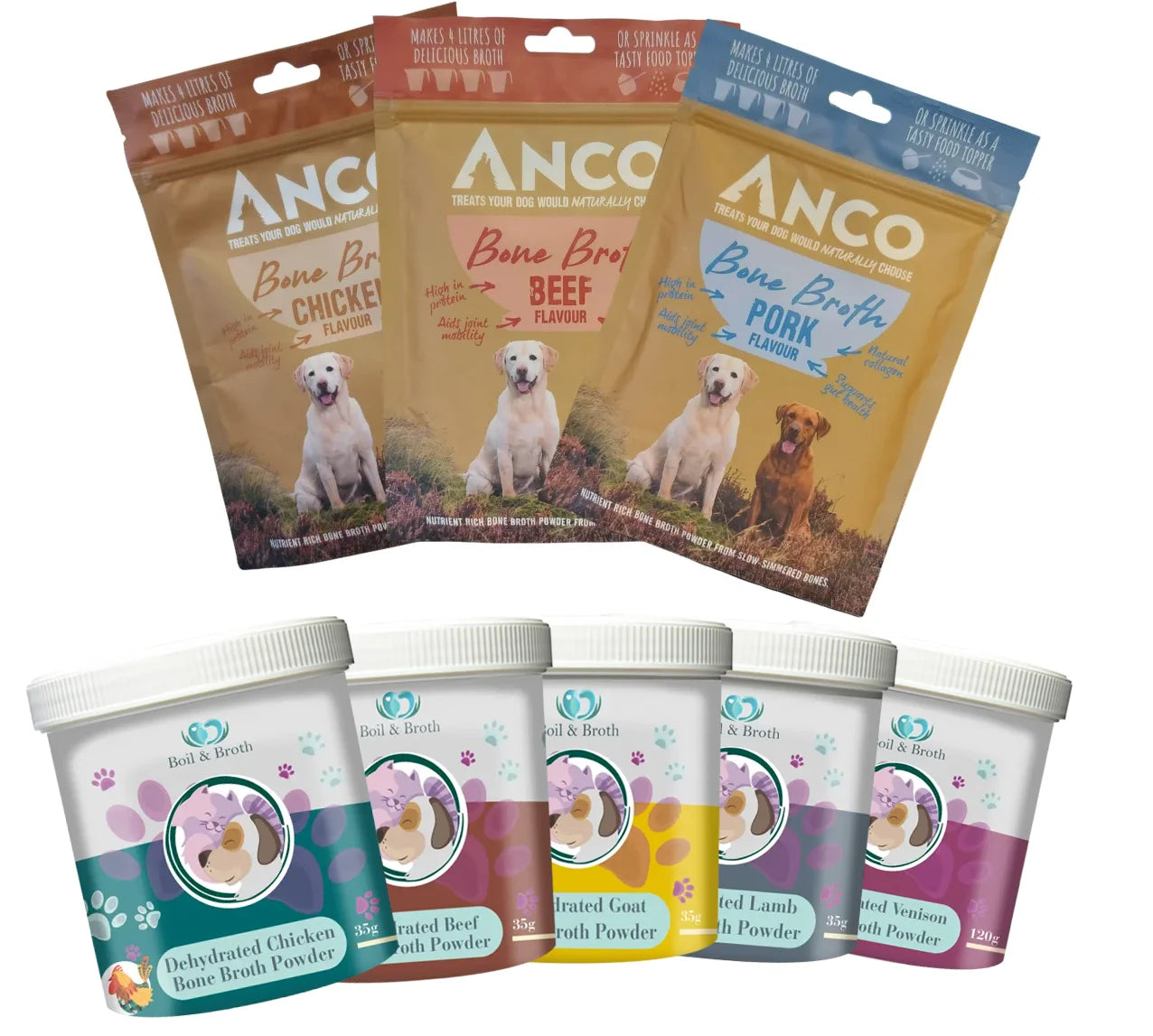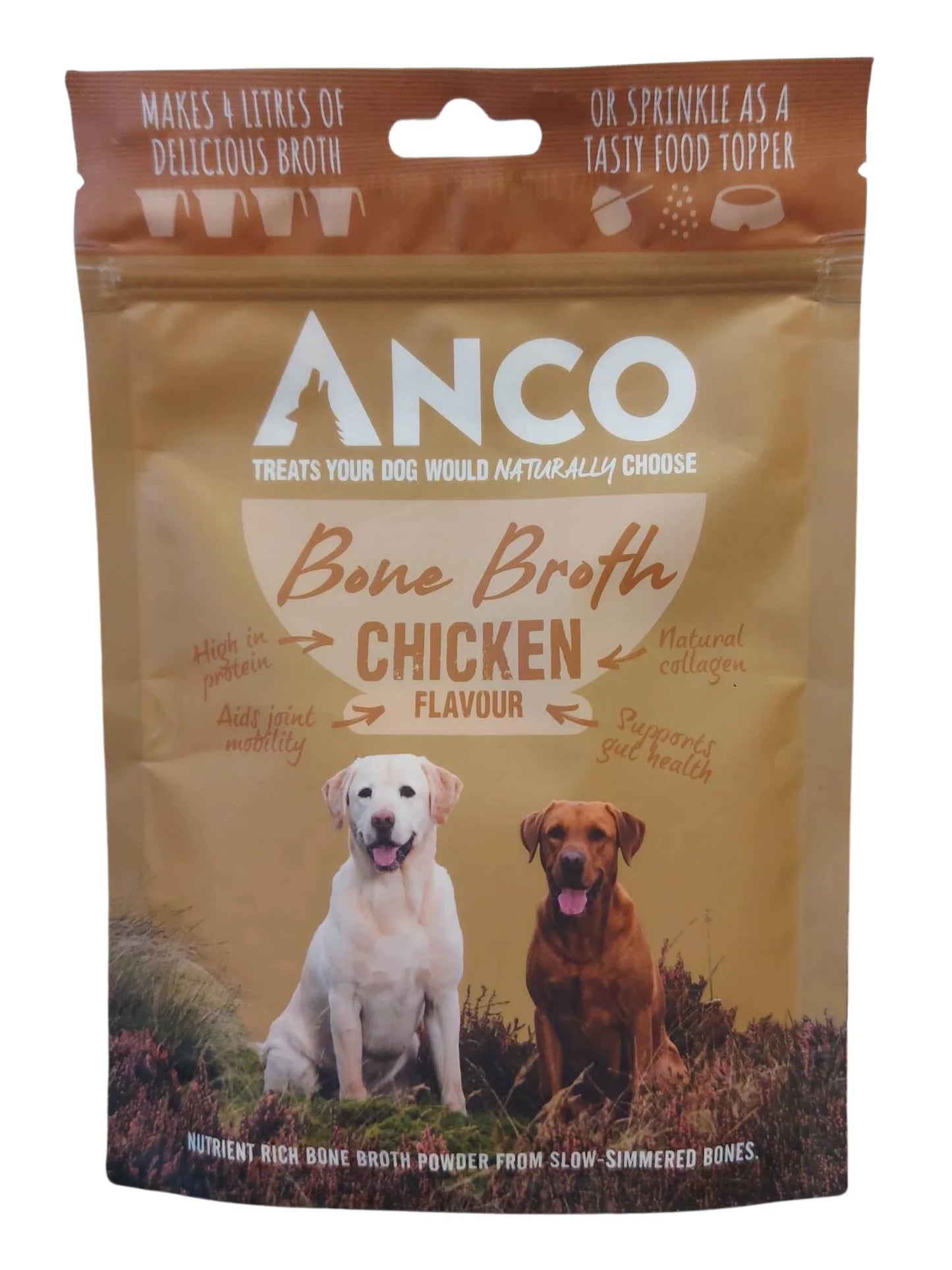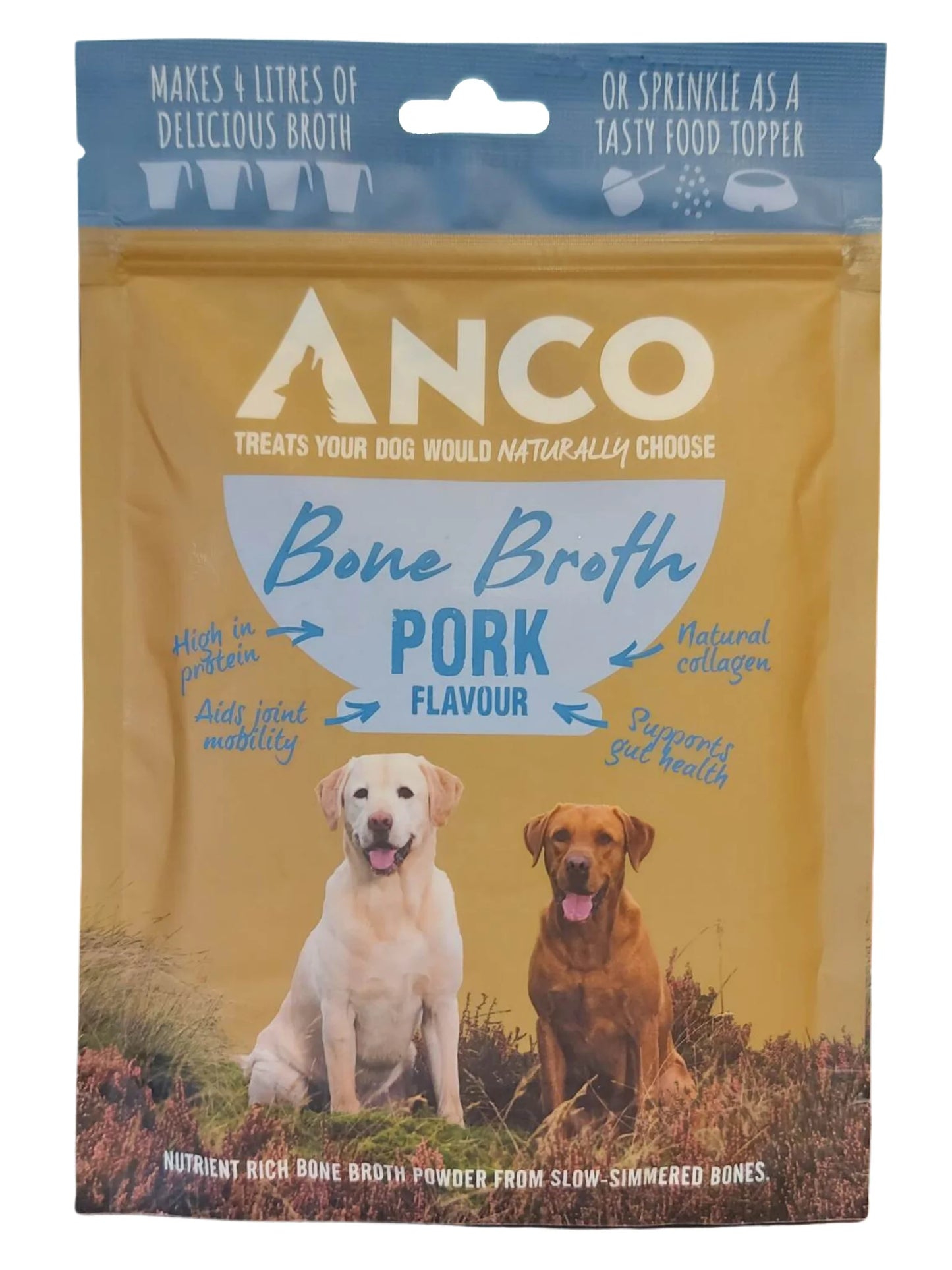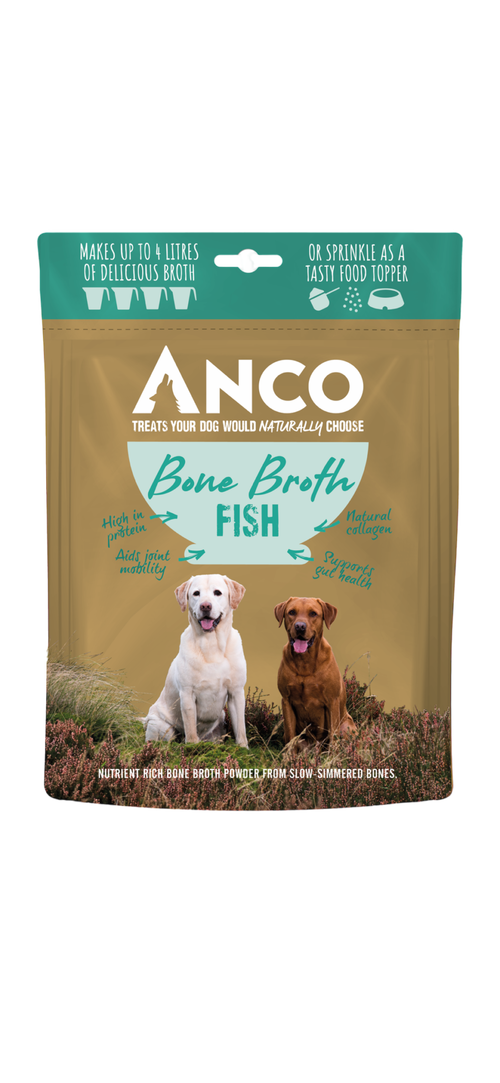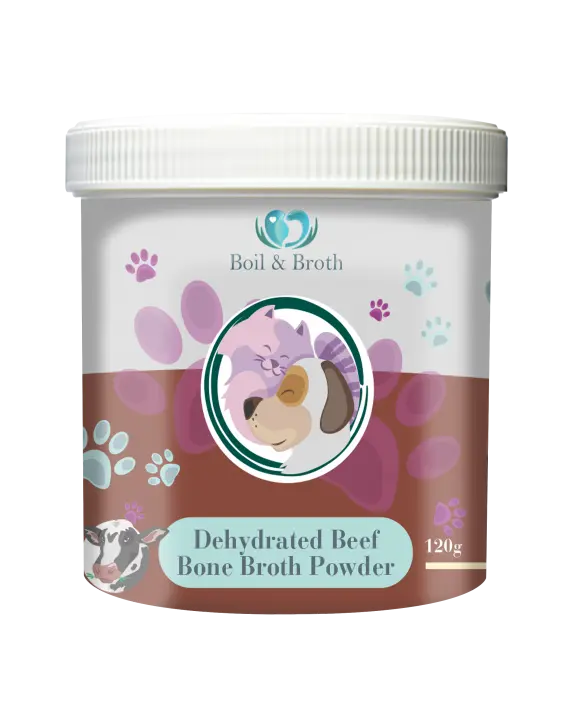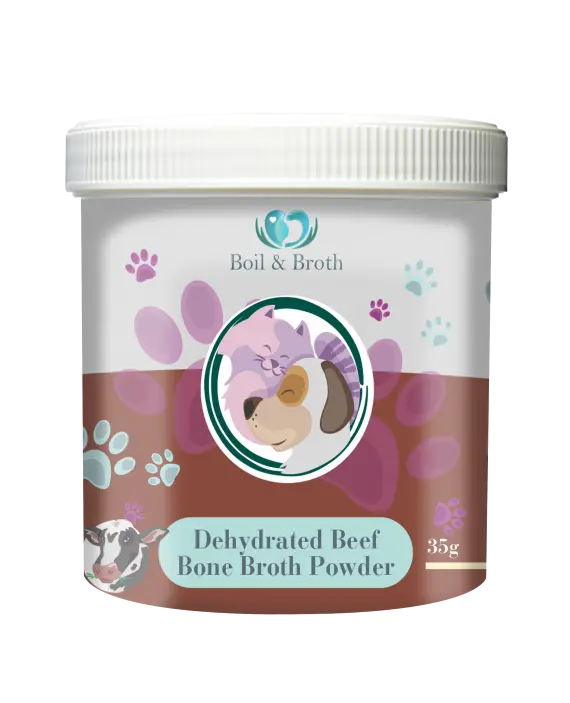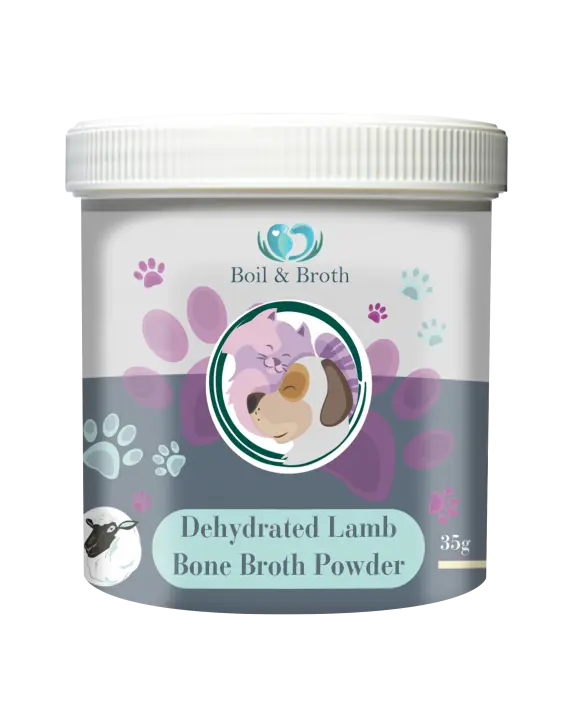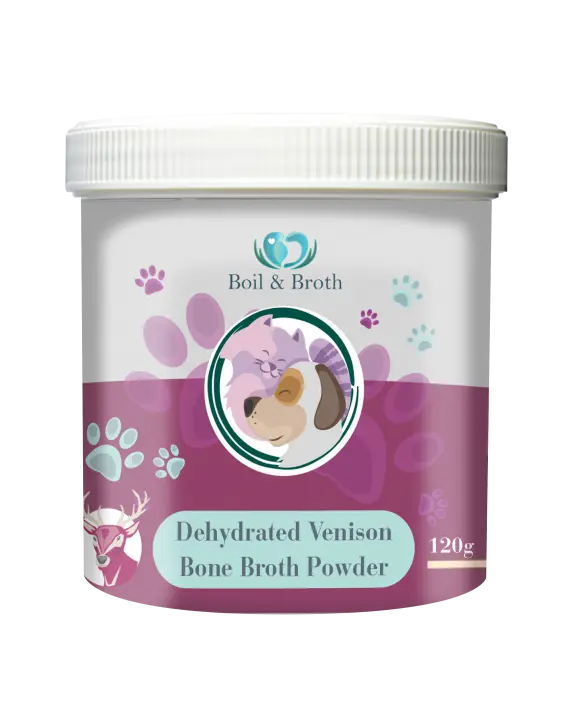 Shipping
We offer Local Delivery to multiple areas around our base, if you are interested in one of our delivery runs please check the Ordering and Delivery page to see if you are on one of our runs or contacts from the Contact Us page. No Frozen products can be shipped out by post, only by local delivery. For updates in our shop visit our Facebook Page.

If you would like to know more about us as a company, visit our page Our Story